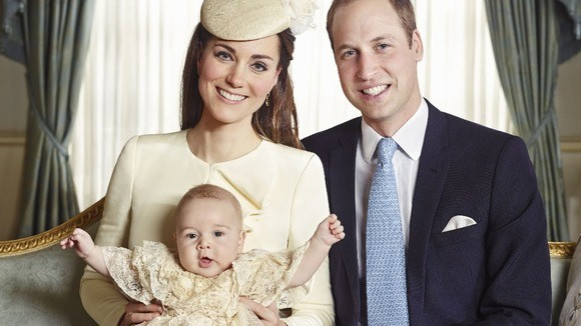 Kate Middleton and Prince William have released four official photographs of Prince George on his Christening day.
The images were taken by celebrity photographer Jason Bell, in the Morning Room at Clarence House, just after George's private and "intimate" baptism ceremony at the Chapel Royal in St James's Palace.
In one photograph, Prince George, who is wearing a hand-made replica of the Royal Christening Robe, is seen with his parents, the Duke and Duchess of Cambridge, and arms raised and mouth opened. Another portrait shows, the members of the royal family together and the Queen, affectionately looking at baby George.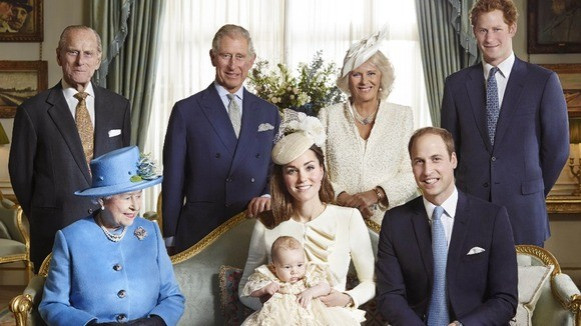 There is also an image featuring the entire family- the Queen is seated with Kate Middleton, who is holding George on her lap, and Prince William. Prince Phillip, Prince Charles, Camilla Parker Bowles, Prince Harry, Pippa Middleton, James Middleton, and Kate's parents, Michael and Carole Middleton are standing.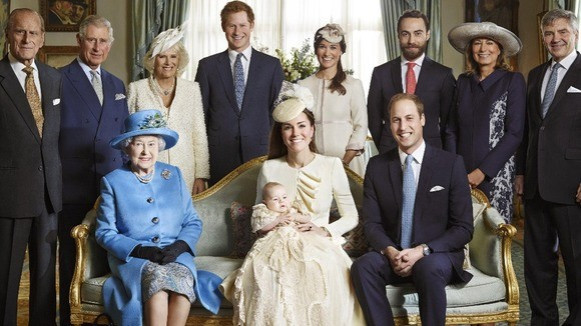 Meanwhile, in a historic shot, the Queen is seen with her three heirs to the throne together for the first time. The 87-year-old monarch posed with her son, the Prince of Wales, grandson William, and great-grandson, George.
In 1894, Queen Victoria was pictured with with her son, Edward VII, grandson, George V, and great-grandson, Edward VIII.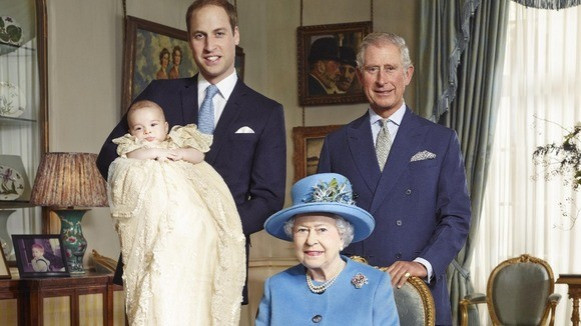 "These are a beautiful set of photographs. Very well shot in difficult circumstances very quickly," royal photographer Ian Jones told Sky News, "You have here key moments such as Prince William holding Prince George in a modern twist. There is also a lovely photo of the three of them together - great smiles and lovely laughter."