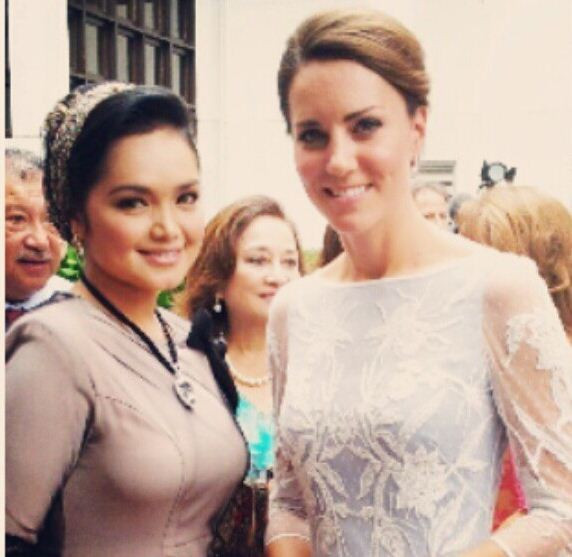 Kate Middleton proved she is made of stern stuff when she joined Prince William at a Diamond Jubilee tea party in the Malaysian capital of Kuala Lumpur. The Duke and Duchess of Cambridge have been embroiled in controversy since French magazine Closer published topless photographs of Kate.
The beleaguered Duchess gave no sign of the weight on her shoulders and looked elegant in an icy blue Alice Temperley dress. She had her hair tied up in an elaborate bun fixed with pearls. The royal couple were attending a reception hosted by the British High Commissioner in Malaysia. They are on a nine-day tour of the Far East, to mark the Queen's Diamond Jubilee. High-profile guests at the party included famed designer Jimmy Choo, who was a close friend of Prince William's late mother, Princess Diana.
"I am very proud and delighted to have been invited. She is an absolutely beautiful person both inside and out. Very much like Prince's William's mother," Choo said. "They are both elegant and wear fashion well but most importantly are very caring people inside which is why they appear so beautiful in public."
Meanwhile, Malaysian singer, media personality and businesswomen Siti Nurhaliza, who was also present at the event, tweeted a photograph of herself with Kate and shared her excitement: "It's such a wonderful moment with a very friendly&lovely Kate Middleton."
The royal couple also watched a traditional Malay tea pouring ceremony.
Italian Magazine to Add to Kate's Woes
The hue and cry over Closer notwithstanding, weekly Italian magazine Chi has revealed it is planning to publish a 26 pages of photographs of the Duchess of Cambridge sunbathing topless inside a special issue. Both Closer and Chi are owned by former Italian Prime Minister Silvio Berlusconi's Mondadori media group and his daughter, Marina Berlusconi, is Mondadori's chairwoman.
"The fact that these are the future rulers of England makes the article more interesting and topical," Alfonso Signorini, the editor of Chi, said, adding, "This is a deserving topic because it shows in a completely natural way the daily life of a very famous, young and modern couple in love."