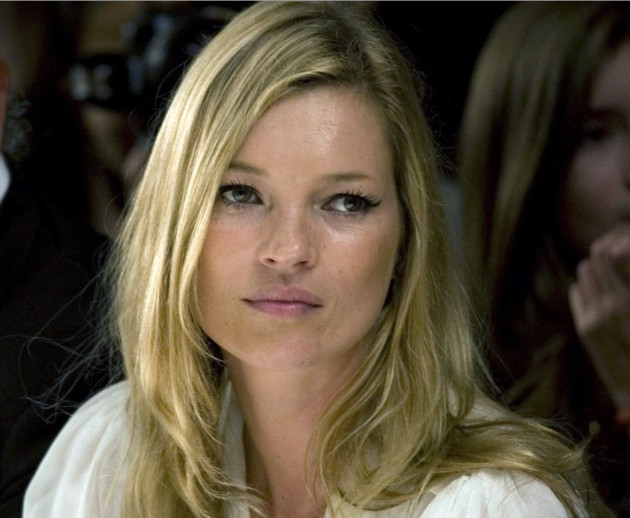 British supermodel Kate Moss has posed for a seductive and passionate photo, for Spanish Vogue's December issue. The photograph - with Moss on a chaise lounge and only a matador's red cape preserving her modesty, was taken by legendary photographer Mario Testino and shows the 38 year old topless, while famous Spanish bullfighter Jose Maria Manzanares stands in traditional bullfighting attire but with his shirt undone. Moss is also on the front cover of the magazine, with a black hairnet over a close-up of her face.
Meanwhile, Moss who recently also posed for Vanity Fair's December issue, spoke to the magazine about details of her personal and professional lives, including all the pressure she faced in her early days and the nervous breakdown of the 1992 Calvin Klein shoot.
"... when I was 17 or 18, when I had to go and work with Marky Mark and Herb Ritts," Moss told Vanity Fair, referring to rapper/model turned actor Mark Wahlberg and the fashion photographer, "It didn't feel like me at all. I felt really bad about straddling this buff guy. I didn't like it. I couldn't get out of bed for two weeks. I thought I was going to die."
Nevertheless, the session and the photograph were what established Moss in the modeling industry and she admitted the difficulties she faced could have been because she wasn't mentally prepared for the rigours ahead. She also spoke about being pressured into posing nude, at 16, for The Face, a British fashion and music magazine.
"... they were like, If you don't do it, then we're not going to book you again. So I'd lock myself in the toilet and cry and then come out and do it. I never felt very comfortable about it. There's a lot of boobs. I hated my boobs! Because I was flat-chested. And I had a big mole on one. That picture of me running down the beach-I'll never forget doing that, because I made the hairdresser, who was the only man on the shoot, turn his back," she said.