The first images of five robbers who held Kim Kardashian at gunpoint in a Paris apartment heist have been released. The suspects were caught on CCTV as they arrived at the luxury hotel apartments on 3 October 2016, where the reality star was staying during Paris Fashion Week.
The camera footage, released by the M6 news channel on Thursday (20 October), shows three men, wearing reflective jackets, cycling towards the block at 2.19am local time (1.19am BST). Soon after, two more men walk past on foot.
Although it was initially claimed the robbers fled the scene after a matter of minutes, the video shows the gang leaving the building 49 minutes later, at 3.07am local time, walking and cycling away briskly.
The concierge — identified only as Abdulrahman, a 39-year-old Algerian national — has revealed that the men were able to gain access to the building due to lax security.
"There was no real security at all. It's a choice. The hotel doesn't mind about security," said Abdulrahman.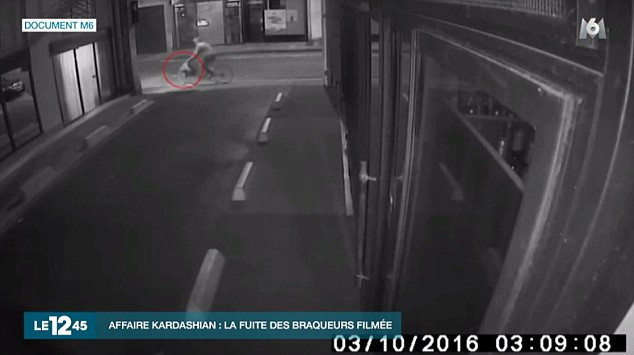 Describing the incident, Abdulrahman told Mail Online: "I was scared, because it was the end of the story and maybe they were going to kill me. When the leader told one of them to tie my feet with zip ties, I began breathing hard, because I didn't know what they would do. At the last minute, I got scared."
The men, who were masquerading as plain-clothes policemen, hid their faces with hoods and balaclavas as they made off with various pieces of jewellery, collectively worth over $10m. While it was reported that investigators found vital DNA evidence, despite the footage, police are no closer to identifying them.
While the investigation continues, Kim Kardashian, who was bound, gagged and held at gunpoint during the robbery, is said to be struggling to come to terms with the assault.
Her sister Kourtney is the latest member of the family to open up about Kim's ordeal. While the mother-of-two is being supported by family, Kourtney revealed they are all still "shaken up" by the terrifying incident.
"I think she has a big supportive family and I know that, like, all of the traumatic things that we've been through, you know, we get through them together as a family and that's what family is about."
"I feel like in our family especially, [when] we go through traumatic things just like our lives move so quickly at times we don't have a chance to digest them," she explained. "But I felt, like, you know I have personally been taking time to just digest everything and - you know, I'm still shaken up."
The family, who found fame through reality TV show Keeping Up With the Kardashians and built their global brand on social media, are now reviewing their security and their social media presence, following criticism that they made themselves vulnerable to such incidents by flaunting their wealth and sharing details of their whereabouts with the public.
If captured, the suspects, face charges of 'armed robbery by an organised gang, criminal conspiracy and kidnapping'.