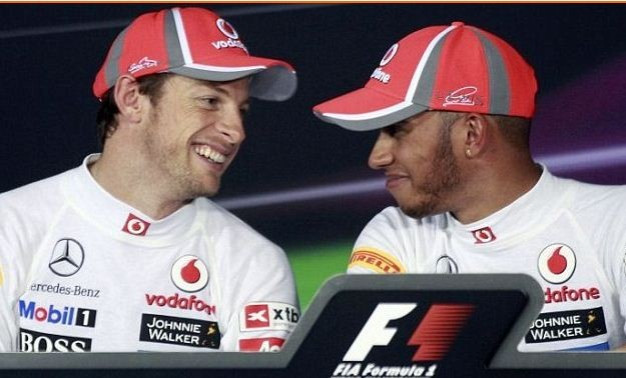 McLaren's Lewis Hamilton was left a little embarrassed after wrongly accusing team mate Jenson Button of "unfollowing" him on Twitter. The 27 year old 2008 Formula 1 world champion wrongly accused Button of disrespecting him, following confirmation Hamilton is to leave the team at the end of the 2012 season.
Hamilton first tweeted: "Just noticed @jensonbutton unfollowed, thats a shame. After 3 years as teammates, I thought we respected one another but clearly he doesn't."
A second tweet read: "Funny thing is we are STILL teammates! All good tho, I plan on giving this team & fans all I got til I cross the finish line in brazil!!!"
However, the British driver, who is to join the Mercedes' works team for the 2013 championship, was later informed Button was never a follower at all and was quick to apologise.
He tweeted: "My bad, just found out Jenson never followed me. Don't blame him! Need to be on Twitter more!"
Unfortunately for him, Hamilton, who is presently in a relationship with singer and X Factor judge Nicole Scherzinger, is no stranger to Twitter storms. He created considerable furore earlier in the 2012 championship, when he posted confidential race telemetry from Button's car on the social networking Web site, ostensibly to prove a bias within the team.
Meanwhile, Twitter storms apart, Hamilton admitted to looking to the future and a new season with Mercedes.
"It is now time for me to take on a fresh challenge and I am very excited to begin a new chapter," Hamilton said, "Mercedes-Benz has such an incredible heritage in motorsport, along with a passion for winning which I share. Together, we can grow and rise to this new challenge. I believe that I can help steer the Silver Arrows to the top and achieve our joint ambitions of winning the world championships."
"I will be forever grateful for the opportunity that they have given me and for their support throughout the years. I have had the pleasure of working with a fantastic team of genuine people and would like to thank them all for their hard work and support," he added.
His future arrival at the team has excited German driver Nico Rosberg, who will be his team mate. The 27 year old tweeted: "Very cool that Lewis will be my new team-mate! Gonna be another great challenge!"