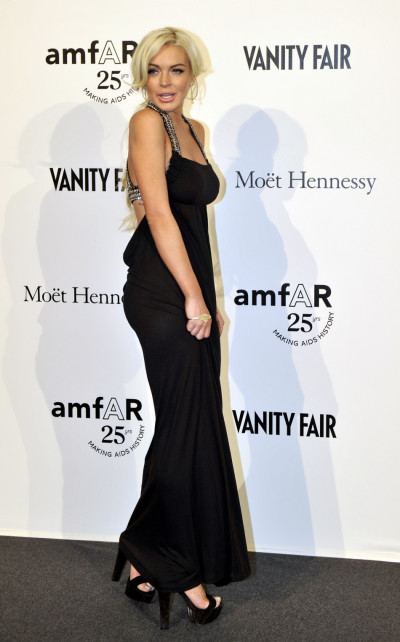 Lindsay Lohan has been announced as the new face of German designer Philipp Plein's prestigious clothing collection.
Plein held a news conference in Milan, Italy, introducing Lohan as his new muse during Milan Fashion Week.
Almost immediately after the announcement was made on the weekend, Lohan began shooting in Bellagio, Italy.
Numerous pictures of the high fashion shoot have already been released, one showing Lohan looking angelic wearing a flowing grey and white, animal print cocktail dress.
Another image shows Lohan in a 70's style look wearing a pair of fitted embellished orange shorts with a matching cropped jacket and a white blouse underneath.
The new modelling job acts as a career turnaround for the 25-year-old, whose acting career had been heavily tarnished after a string of brushes with the law.
The troubled child actress has had countless run-ins with the law from drink driving charges to jewellery theft and allegation of assault, whilst in rehab.
All of which have left the star undertaking numerous punishments by the law from probation, community service and counselling.
However now all seems to be much more positive for the child actress with the huge career opportunity offered by Plein who clearly pleased to have the star on his team has said:
"Lindsay is a beautiful, highly acclaimed actress and model. We will be able to create unique images: Refined and luxurious, but also full of sensuality" quoted the Mail Online.
Although the release date of which Lohan's Spring/Summer 2012 advert for the brand have not been released it is know that in addition to a still photographer, a videographer captured the action.
Can this new fashion campaign put Lindsay back on the path of finding her career?
Only time will tell.