Luisana Lopilato pregnant: Michael Buble's wife 'expecting couple's third child' after son's cancer battle
News comes after a difficult 18 months which has seen their young son Noah battle cancer.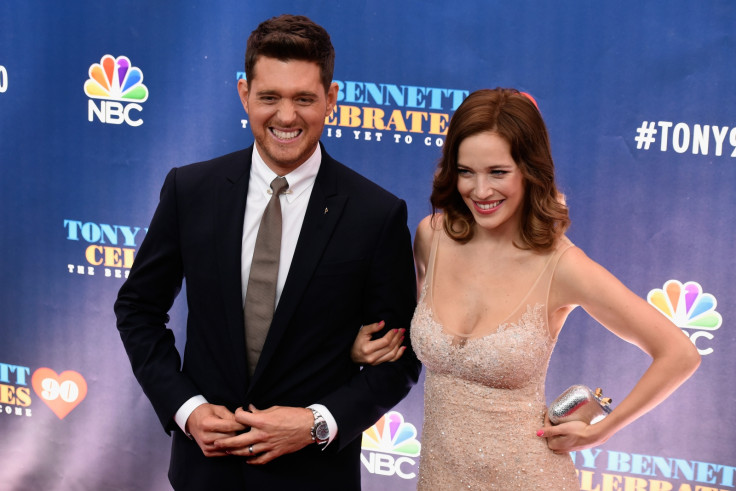 Michael Buble and his actress wife Luisana Lopilato are reportedly expecting their third child.
According to reports in Argentinian press, the Crazy Love crooner and his other half will soon welcome a new addition to the family which already includes sons Noah and Elias.
Argentinian journalist Laura Ufbal broke the bombshell news by claiming Luisana, 30, was waiting until next month to announce the news.
While reports suggest that the proud parents have told relatives Luisana's actor brother Dario wasn't giving anything away during a recent TV interview. He is said to have laughed and stumbled over his words was asked about the arrival of another niece or nephew.
"I wouldn't be able to tell you," he reportedly said as he stifled a smile. "I swear the truth is I couldn't tell because I don't know."
They are hoping to turn the page after a tumultuous 18 months, which saw their four-year-old son Noah diagnosed with liver cancer in November 2016
The couple was given the devastating news following a biopsy at a clinic in Buenos Aires, and he was immediately started a four-month course of chemotherapy..
Both parents put their careers on hold to care for the sick boy and in April 2017 Lopilato gave an update on their son's health adding that he is doing "well".
"My son's recovery is a long process as you all know and he has to continue with check-ups," she said. "But we are very happy. We are looking forward to thinking about the future, to seeing our children grow."
In June, 41-year-old Buble became overwhelmed with emotion when he made his first public appearance since the cancer diagnosis to accept the prestigious National Arts Centre Award from the Governor General of Canada.
"I stand here truly humbled that I have been allowed to be one of your musical representatives and that you would choose to bestow this honor upon me during what has been an emotional and difficult time for my family,"he said.