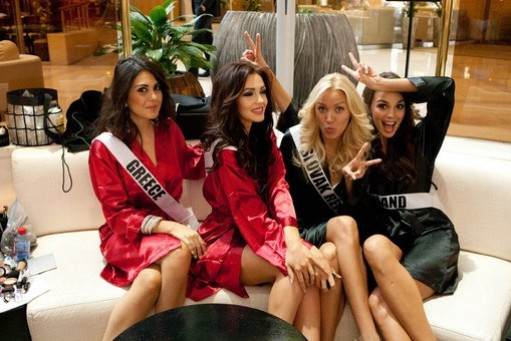 The Miss Universe 2013 is going on in full swing and the contestants are literally battling it out among themselves to win the coveted crown.
Meanwhile, the contestants' supporters can give them a much needed push by voting for them and making sure that their favourite contestant seals her spot in the semi finals. All you have to do is go to http://www.missuniverse.com or http://www.telemundo.com.
The contestant with the maximum votes wins an easy spot in the semis. The voters need to be above 16 years of age and possess a valid email id to vote. The competition will air on 9 November at 1 am GMT on NBC. The worldwide event will take place at Crocus City Hall in Moscow, Russia.
The reigning Miss Universe Olivia Culpo from the USA will crown her successor in the grand finale.
The contestants will be judged in three categories: swimsuit, evening gown and interview as they vie for the coveted title of Miss Universe 2013.
The first event for the pageant was a photo shoot for an Italian lingerie brand, Yamamay swimwear. The contestants posed in two-piece white bikinis at the Crowne Plaza Moscow World Trade Centre hotel. Following that they shot for a music video for Emin, the superstar singer of Russia called Amor featuring the reigning Miss Universe Culpo.
That is not all. Miss Universe contestants sizzled the ramp at the Tony Ward Fashion Show during the Mercedes Benz Fashion Week in Moscow.
The contestants were clad in beautiful evening gowns designed by Ward with red and white being the most prominent colours in the collections.
Following the fashion show, the contestants celebrated at the Rose Bar and let their hair down in more casual attire.