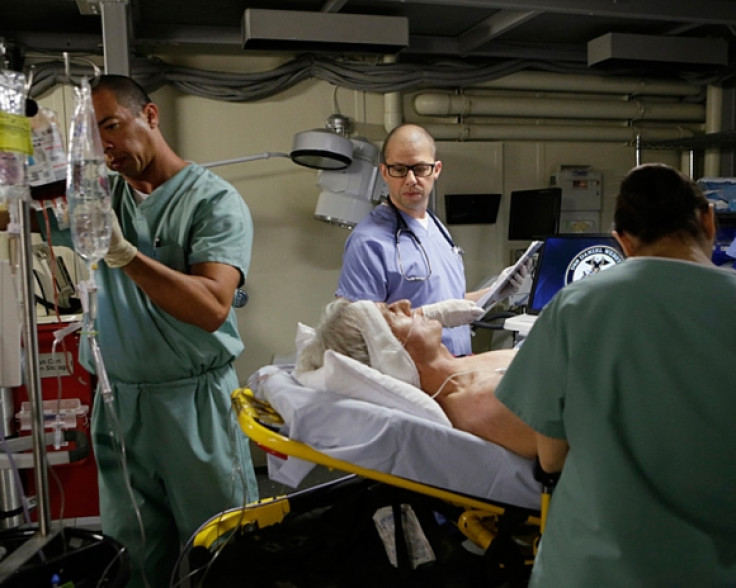 The premiere episode of NCIS season 13 will find Gibbs battling for his life aboard a Navy hospital ship, after being shot by The Calling's young recruit, Luke. A new trailer of the upcoming season shows the special agent in a surgery and guest star Jon Cryer is operating upon him.
The trailer opens with the whole team learning of Gibb's being shot and Tony DiNozzo is heard saying, "Boss can you hear me?" Gibbs is then shown being taking for surgery.
The trailer also shows the special agent hallucinating about his dead daughter. Then, Kelly says, "I am right here daddy," as she takes her father's hands and walks towards the light.
Does this mean Gibbs is dead? Or will Dr Cyril Taft (Cryer) save the special agent's life? Well, we will have wait until the season 13 premieres on 22 September on CBS.
Meanwhile, showrunner and executive producer Gary Glasberg has spoken about the premiere episode of season 13.
"We pick up right where we left off," Glasberg told TVLine. "He's rushed into surgery on an aircraft carrier, where we hook him up with the surgeon on the ship played by Jon Cryer [Two and a Half Men]."
As teased earlier, Gibbs' injuries are not to be taken lightly. "He goes through a really traumatic experience, the kind that changes someone," Glasberg said. "Really, the whole first half of the [premiere] is this emotional roller coaster ride, of Gibbs' surgery."
CBS has released the synopsis for premiere episode, titled Stop The Bleeding, which reads as follows: "After being shot, Gibbs fights for his life aboard a Navy hospital ship, while DiNozzo and Joanna travel to Shanghai to try and take down the Calling. Jon Cryer guest stars as Gibbs' surgeon, Dr. Cyril Taft. Mimi Rogers returns as CIA Officer Joanna Teague."