Update: Hello Games founder and No Man's Sky creative lead Sean Murray has tweeted to say: "Server hacked. We're binging Mr Robot episodes as quickly as we can looking for answers. Ep05 is a cracker."
Murray tweeted again to say: "If anything was a mistake, it was using Linked In without [two-factor authentication."
Original Story: No Man's Sky developer Hello Games has seemingly had its Twitter account hacked, following months of silence following the release of its highly-anticipated but ultimately controversial sci-fi exploration game on PS4 and PC.
Hackers tweeted only once (embedded below) before Hello Games noticed and deleted the tweet. It read simply: "No Man's Sky was a mistake," indicating the perpetrators of the hack were disgruntled gamers unhappy with the game.
The tweet was sent via LinkedIn, indicating the hackers were able to access the account through the LinkedIn account associated with it.
Prior to this, the Hello Games Twitter had been left dormant since 23 September, following the release of patch 1.09. The Guildford studios' founder Sean Murray hasn't tweeted since 18 August, just nine days after the game was released.
No Man's Sky proved a controversial release in August. The game provided players with a near-infinite universe of procedurally-generated planets housing procedurally-generated animals and plant life. Players inhabit the same universe, discovering planets and lifeforms others are also able to discover.
While we enjoyed it, the game disappointed many due to unfulfilled promises, how different the final product was compared to early trailers and its inability to meet the lofty expectations many fans had after years of intense anticipation.
Complaints from players led to the UK's Advertising Standards Authority launching an investigation into how the game has been advertised on Steam. In response to the backlash, Sony Worldwide Studios president Shuhei Yoshida said: "It wasn't a great PR strategy, because he [Murray] didn't have a PR person helping him, and in the end he is an indie developer. But he says their plan is to continue to develop No Man's Sky features and such, and I'm looking forward to continuing to play the game."
Murray's last tweet read: "We're totally focused on customer support right now. Then we'll move onto improving and adding features to the game."
Hello Games hasn't officially addressed the apparent hack of its Twitter account. IBTimes UK has reached out to the studio for confirmation and comment.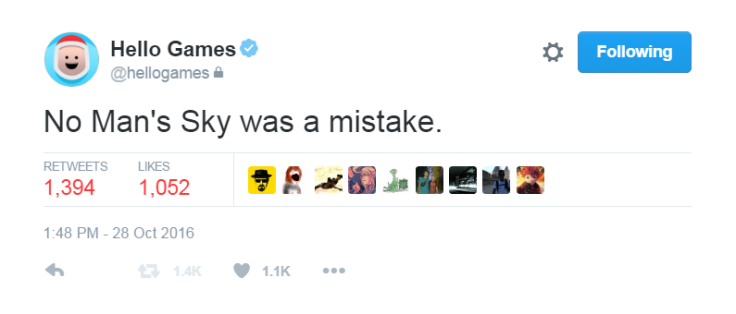 For all the latest video game news follow us on Twitter @IBTGamesUK.