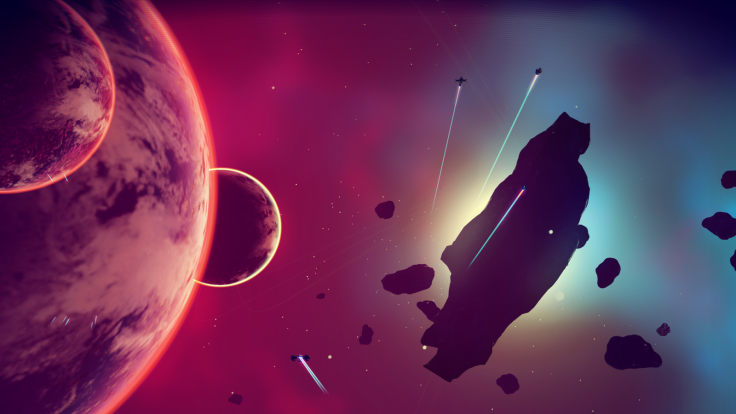 Hello Games has announced that a new patch is coming to the PS4 version of its recently released space-exploration action-adventure No Man's Sky as the UK-based developer fervently strives to address and fix the slew of technical issues plaguing its ambitiously massive sim. The developer took to Twitter on 24 August to announce its upcoming PS4 patch 1.06 is currently in testing and will be released sometime this week.
While patches 1.04 and 1.05 fixed 75% and 85% of crash issues for the game's console version last weekend, the studio says the next patch should take care of 90% of game crashes for PS4.
Although the new patch does promise to address one of the biggest issues affecting No Man's Sky's PS4 version, Hello Games notes that it will include "other fixes and improvements", saying the team "obviously won't stop until these issues are 100% resolved."
Hello Games has not revealed a specific release date for the upcoming patch.
Since No Man's Sky was launched earlier this month, the sci-fi game's PS4 version has had a few technical issues, bugs and glitches that the team has tried to fix with patches and workarounds.
Issued on Sunday, the small 35 MB 1.05 update for the console seemed to squash some of the game's known bugs including its Discovery menu bug and a saving bug,
The game's PC version, which was also launched with a slew of technical issues, will not be addressed in this patch. Just hours after the game was launched on Steam on 12 August, Hello Games released its first PC patch to address its multiple, widespread performance issues including freezing glitches, game crashes and frame rate dips. The developer recently published the patch notes for the three different PC patches that have been released so far.
Hello Games has also listed some details about how crash-reporting works for No Man's Sky, explaining that when "a PS4 crashes, it sends us a crash dump. Over the last week since the game came out we categorised and fixed these in order of priority."
Hello Games founder and creative director Sean Murray has previously mentioned that the team, which is currently "totally focused on customer support right now", will shift its focus onto improving and adding new features to the game once it addresses all of the support requests received so far.
Released earlier this month as one of the most highly anticipated games of the year, No Man's Sky skyrocketed to the top of the UK charts in its first week as Sony's second biggest PS4 launch after Naughty Dog's Uncharted 4.
However, No Man's Sky sales dropped sharply by 81% in the second week in the UK. Uncharted 4 sales also dropped by 78% following its own May release.
No Man's Sky is currently available for PS4 and PC.