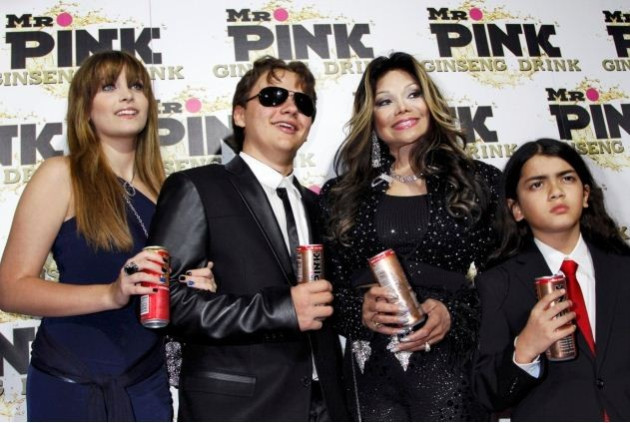 Paris Jackson, the teenage daughter of the late singer Michael Jackson, looked radiant when she arrived for the launch event of the Mr Pink Ginseng drink at the Beverly Wilshire Hotel in Beverly Hills, California. Paris was accompanied by her brother Prince Michael, ten-year-old Blanket Jackson and Michael Jackson's sister, La Toya Jackson.
The 14-year-old wore a navy blue floor-length gown with a dark navy scarf tied loosely around her waist. The young Jackson wore light eye make-up, a diamond-encrusted necklace and carried a small black handbag. The youngster, known for being outspoken on Twitter, posted about her preparations for the event.
"Hair and nails done for the Drink Mr. Pink launch tomorrow! Stoked," she tweeted, later adding, "Looking snazzy for the Drink Mr. pink launch tonight!"
Paris caused quite a stir on the micro-blogging site when she posted a photograph of herself in a short pixie-cut hairstyle with this message: "If I want to cut my hair and donate it I'd appreciate some support." It later turned out she was only trying on a wig.
"I was kinda bored . . . and my friend dared me to do it," Paris explained, "My grandma [Katherine Jackson] kinda tripped a little bit because I cut it really uneven and short. She's used to it now and she likes it."
Finally, Paris, who is pursuing a career as an actress, refused to name her present project but confirmed it was not a reality television show. She also had advice for other celebrity children in the spotlight: "Stay humble. Don't let things get to your head."
Other A-lists celebrities who came to the event included actors David Arquette, Lindsay Lohan and Audrina Patridge, model Kimora Lee Simmons and professional athletes Metta World Peace and Matt Kemp.