Emergency despatch tapes from the crash that killed Paul Walker have been released. Firefighters attending to the scene of carnage on Saturday (30 December) reported both the actor, and his friend, Roger Rodas, "DOA" - "dead on arrival."
The firefighter, who arrived less than three minutes after the first 911 call was made reporting the incident, is heard on the tapes speaking to a first responder. "One vehicle fully involved," he said. "We have confirmed two DOA... again, confirmed two fatalities.'
The accident was reported as a "Code N" incident, meaning it was newsworthy and needed to be handled sensitively.
The recordings which have appeared on TMZ, come as the first images of Walker's grieving mother Cheryl emerge.
A former fashion model, Cheryl was at her family home in Los Angeles. Walker's younger brother, 25-year-old Cody, was also spotted visiting his late brother's home in Santa Barbara, California, on Wednesday afternoon contending with the painful duty of packing boxes of the late Fast and Furious star's possessions.
While friends of the star claim Walker and Rodas had talked of a mechanical problem with the limited-edition Porsche, investigators are still trying to determine what caused Rodas to career out of control. The Los Angeles County Sheriff's Department has confirmed that speed was a factor in the collision.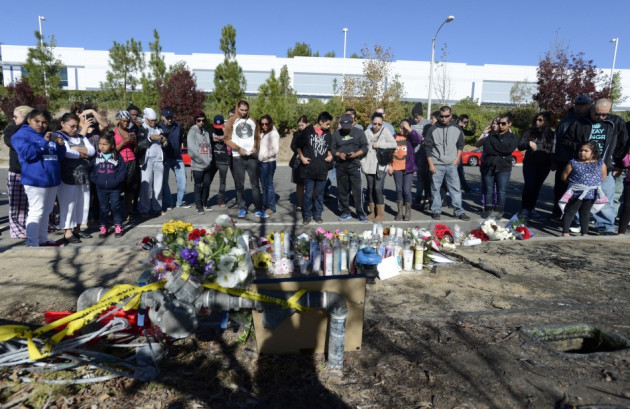 As Walker's family turn to their strong Mormon faith in a bid to come to terms with the tragedy, Paul's sister Ashlie Walker broke her silence, vehemently refuting all suggestions that her brother and Rodas, who was driving the 2005 Porsche Carrera GTe, were drag racing at the time of the crash.
"They were absolutely not racing, that's a complete lie," 37-year-old Ashlie told The MailOnline. "It hurts us when we hear these lies and it makes our grief worse and more painful."
"These are irresponsible allegations and people are trying to make out speed and racing was the reason for his death when it was just a terrible accident."
An autopsy released by the Los Angeles County coroner's office revealed that the 40-year-old died from the 'combined effects of traumatic and thermal injuries.'
Rodas was reported to have been dead from 'multiple traumatic injuries' before the car exploded in flames.
Universal Pictures announced that it has shut down production on the Fast and The Furious 7, as they "assess all options available to move forward with the franchise."