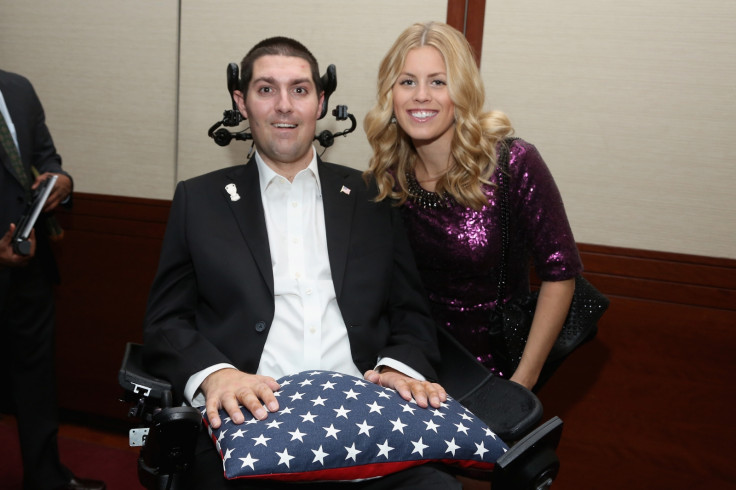 The family of Pete Frates have stated he is "resting comfortably" after reports surfaced online that the Ice Bucket Challenge founder had died of amyotrophic lateral sclerosis (ALS).
"Pete's family wants everyone to know that he is resting comfortably at MGH - the docs, medicine, prayers, love continue to help him get stronger," the 32-year-old's mother Nancy said wrote in a post on Twitter after news broke of his "death".
News of his apparent passing had prompted an outpouring on social media with Journalist Mike Barnicle describing the Boston College Alumni's as "courageous, huge inspiration, left a memorable mark".
On Sunday Frates mother, Nancy, asked his supporters to keep him in their prayers after he was admitted to hospital suffering from complications of the debilitating disease. "Pete is back at MGH and battling this beast ALS like a Superhero," she wrote in a post on Facebook. "We feel your love and support and are so grateful. Prayer and love - the most powerful of medicines! Thank you!"
Since his diagnosis in March 2012, at the age of 27, Frates's family has taken an active role in raising awareness and funds for ALS research.
In 2014, the campaign, which involved people dumping buckets of ice water over their heads for charity before nominating more people, swept the globe with everyone from Justin Bieber to Oprah Winfrey and Barack Obama taking part. Over 2.4 million ice bucket-related videos have been posted on Facebook.
According to the ALS Association, the Ice Bucket Challenge videos led to an extraordinary £170 million ($220m) in donations in 2014 alone. The British version, the Motor Neurone Disease Association, also benefited from the social media craze, receiving $98.2m in donations.
On 29 June, Frates' wife Julie shared an image on Twitter of the two of them in a hospital bed, as he was treated for his debilitating condition. She wrote: "Typical day for big P and I... 10 hours in hospital followed by a relaxing night of nebulizer and gas masks."
Update: This story was edited at 1:30pm on 3 July to reflect the latest news from Frates' family.