American reality television star Kim Kardashian has been branded anti-papal by an Argentine website after sharing her thoughts on Pope Francis' historic visit to the United States. The Keeping Up With The Kardashians star took to Twitter to talk on the pontiff's visit.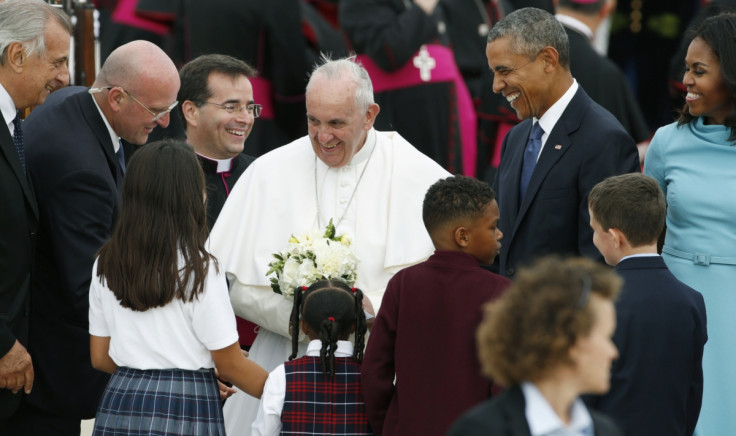 "The pope is dope," Kardashian wrote. The #popeisdope hashtag had been trending on Twitter throughout Pope Francis' visit.
The website Primicias Ya, carried the headline: "Did Kim Kardashian attack the pope?" The writer who did not understand the slang, mistranslated the tweet as "The Pope is Drugs." The writer also took a dig at Kanye West's wife stating that she was once featured in a sex tape.
This coincided with West's interview with Vanity Fair confirming his plans to run for US president in the 2020 elections. In August, the rapper shocked his fans when he used his acceptance speech for the Michael Jackson Vanguard Award at the MTV Video Music Awards, to announce he would be running for president.
"As soon as I said that, it was like, "Wait a second, we would really be into that, because actually if you think about it, he's extremely thoughtful. Every time he's ever gotten in trouble, he was really jumping in front of a bullet for someone else. He's probably the most honest celebrity that we have." I didn't approach that because I thought it would be fun. It wasn't like, Oh, let's go rent some jet skis in Hawaii. No, the exact opposite. I sit in clubs and I'm like, Wow, I've got five years before I go and run for office and I've got a lot of research to do, I've got a lot of growing up to do," he said.
"My dad has two masters degrees. My mom has a PhD, she used to work at Operation PUSH. Somehow the more and more creative I get, the closer and closer I get to who I was as a child. When I was a child, I was holding my mom's hand at Operation PUSH. I think it's time. Rap is great.
"It's fun. It's fun to be a rock star, and I'll never not be one I guess, but there'll be a point where I become my mother's child. With all the things I've done that people would consider to be accomplishments, what's the point where I become the person that Donda and Raymond West raised? My parents' child," he added.