Adult entertainment site Pornhub.com has launched its own online casino in a bid to offer two of the internet's favourite things under one roof. The adult entertainment company, which is one of the world's most-viewed pornography web sites with 78.9 billion online video views a year, recently unveiled the aptly-named Pornhub Casino, which comes complete with strip poker.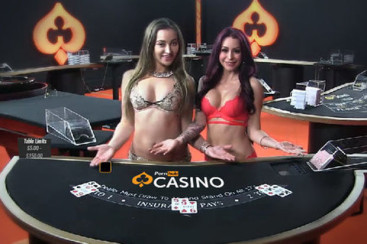 The online gambling outfit offers roulette, blackjack and slot machines and lets participants ogle the dealers' breasts during their games. Those that win on the online slot machine are treated to a quick scene from an explicit movie and, if asked nicely through chatbox, croupiers may flash their breasts to players. Famous porn stars like Monique Alexander or Dani Daniels feature heavily in the promotional materials and are expected to fly down and work the roulette wheel or blackjack tables. There is no sign of PornHub queen Mia Khalifa though.
Pornhub vice president Corey Price told the Huffington Post that it was only a matter of time before the company combined sex and gambling:"Our users know a thing or two about having a good time online. So when a casino company approached us with an opportunity to blend gambling with porn, we had to consider it seriously. He added: "We decided to take a gamble – pun intended – and go ahead with the idea."
In September 2014, Pornhub ventured into the world of music with the launch of its own record label, Pornhub Records. Weeks later it released festive single Coming for Christmas by TVXbabes. Rapper and pop culture icon Coolio has also released a song and video through the website. A year later, it bolstered up its goodwill efforts by gifting one lucky student with a $25,000 (£16,000) college scholarship to celebrate the launch of its brand-new philanthropic branch PornHub Cares.