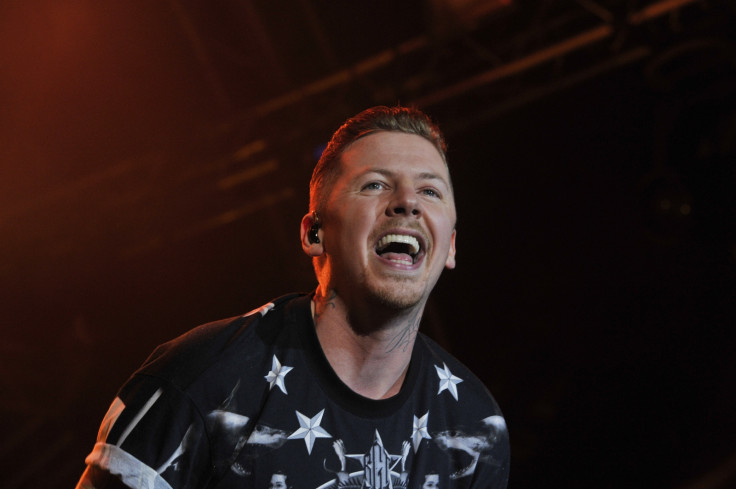 Professor Green wants to make it clear that he does not need drugs to have good time. The British singer, who recently split from his wife Millie Mackintosh, has denied any substance use after a snap he posted on Instagram provoked a strong response from fans.
The drama kicked off on social media after he shared an image with his 711K followers which shows him posing with close friend on his way to the 2016 Glamour Awards. Some fans claimed that they could see something suspicious under his nose.
"Is that a bit of Charlie I see?" one follower said. While another noted that while it did look a "dodgy "no one would be that stupid." The speculation spilled over to Twitter with one commentator tweeting him a simple message which read "White nose!"
After noticing the online furore, the 32-year-old, who's real name is Stephen Manderson, set the record straight by saying: "Sadly it's a filter / light issue. I'm being relatively well behaved."
IBTimes UK has reached out to Green's representative and is awaiting comment.
In 2015 the award winning rapper opened up about his colourful past telling the Daily Star that weed used to be his vice. "I used to smoke a lot of weed. I never used to be able to go to sleep without smoking a spliff," he said. "Well it was a long time ago when I went to the Mike Skinner school of partying, didn't I?"
Meanwhile, it seems that Green may finally be moving on following the end of his marriage, after months of speculation that their marriage was on the rocks. He was spotted enjoying an after party with Laura Whitmore after the awards at Groucho Club in Soho.
Mackintosh is back in the arms of her ex and Made in Chelsea co-star Hugo Taylor and made it official by sharing a romantic kiss on a fancy yacht in Monaco during his birthday celebration "What a perfect end to an amazing weekend #hugodirty30 ," she captioned the photo.