Red Dead Redemption 2 teaser trailer shows off Rockstar's gorgeous return to the Old West
Rockstar Games unveil their western sequel for PS4 and Xbox One.
Rockstar has revealed the debut trailer for Red Dead Redemption 2, which it officially announced earlier this week. The trailer gives us a good look at the stunning world of the game set to release next year on PS4 and Xbox One.
The trailer, embedded above, didn't specify any characters that will appear in the game (sorry John Marston fans) but did give a good luck at the gorgeous world Rockstar is working on for its first game developed specifically for PS4 and Xbox One.
All we hear other than the soundtrack is a voice over from an unseen character that says: "Listen to me, when the time comes you gotta run and don't look back. This is over."
A Red Dead sequel has been rumoured for some time, but no official word came from the Grand Theft Auto developers until this week. On Sunday Rockstar tweeted a red version of their logo, sending fans into a frenzy before a day later they tweeted artwork basically confirming a new Red Dead game.
Twenty-four hours after that, Rockstar Games confirmed Red Dead Redemption 2 – apparently ignoring our totally sincere name suggestions. How rude. A synopsis for the game reads: "An epic tale of life in America's unforgiving heartland, the game's vast and atmospheric world will also provide the foundation for a brand new online multiplayer experience."
Released in 2010, Red Dead Redemption is the celebrated follow-up to 2004's Red Dead Revolver, which was smaller in scope and not nearly as successful as its sequel - hence the new game being a direct continuation of the story.
Redemption is considered a classic because of its sparse but beautiful open world, its western stylings and its story, which ranks among the best Rockstar has ever produced. It recently arrived on Xbox One via backwards compatibility, and it's well worth playing.
Rockstar Games are known for their quality trailers, and this certainly ranks among them. Yesterday we ran through six of the best trailers they've ever produced.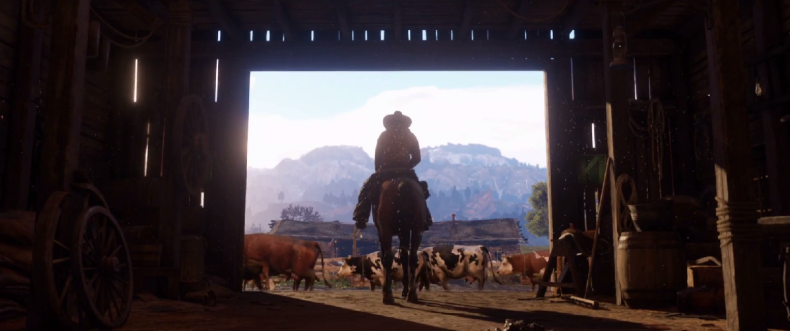 For all the latest video game news follow us on Twitter @IBTGamesUK.