Remembering John Hurt: A wildly funny actor 'rooted in normality'
Tony Earnshaw worked with John Hurt, who died at the age of 77 and reminisces about the British film legend.
I accompanied John Hurt to a screening of his 1974 film Little Malcolm and His Struggle Against the Eunuchs. It was the autumn of 2009. The British Film Institute was re-releasing Little Malcolm on DVD and John was to participate in an on-stage interview to discuss its transfer from theatre to big screen. In the audience, he became just another punter.
Well, not quite. The seats immediately around him were gently vibrating as the people in them became aware of their near neighbour and felt that indefinable but very definite aura that emanates from talent. And John Hurt had talent in spades.
Earlier we had had dinner as we discussed whether his schedule would allow him to attend a film festival I was directing in Yorkshire. He was up for the idea. Moreover, he had no snobbishness or 'side' to him or the notion of giving his time and talent – that word again – to a regional event.
The draw was a season of films covering, at that point, a 47-year career in movies and television. I didn't think his work had been represented in such depth previously; neither did he. Over dinner we roughed out a plan. Then came the clang of the warning bell: it would only happen if he weren't working. Clearly, if Mr Spielberg came calling then the deal was off. Bradford, Hollywood… there's very little in it.
Over the next few months, I got on with curating the programme, always keeping John and his lovely wife, Anwen, in the loop. And, always, the response was the same: "It's in the diary."
John Hurt did go to Bradford in 2010. The retrospective included a magnificent, memorable night in which the star mesmerised his audience with a candid and sometimes wildly funny stream of behind-the-scenes anecdotes and straight-talking reportage about the state of the industry.
He knew his status – visiting press liberally ladled out the word 'legend' – but he remained totally accessible and rooted in normality. What impressed me most was his power of recall – that and an uncanny knack of mimicking anyone and everyone from Laurence Olivier to Quentin Crisp.
He was gracious and generous; gregarious and gorgeous. When we launched the festival (at the offices of 007 producers EON on Piccadilly) he sauntered in to lend a hand. It meant a lot because the London press couldn't quite take in that the guest of honour was there to talk us up.
He effortlessly handled various TV interviews. When it came to my turn – I was live – I was rattling through my spiel when, from the corner of my eye, I was distracted by manic movements just off camera.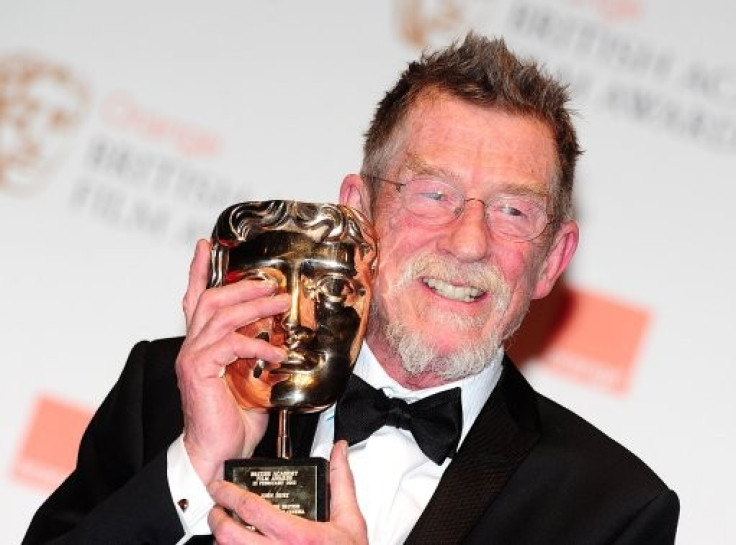 It was John, cartwheeling his arms and grinning like a loon, to put me off, which he did. I muttered "bastard" under my breath and was then enveloped in a tight bear hug as the TV producer laughed and said, "We'll use that." And they did.
I worked with him after the Bradford experience and saw once again how he crossed generations, appealing to kids who loved Harry Potter and older men (who should know better) wanting to talk Doctor Who.
Then there were those who recognised the value in an eclectic career that had seen collaborations with John Huston, Sam Peckinpah, Jim Jarmusch, Marlon Brando, Johnny Depp, Fred Zinnemann, Richard Burton and Orson Welles.
John talked about it all without any sense of grandiloquence. It was just the job, and they were his workmates.
As we left the stage in Bradford after our Q&A (and his standing ovation) he said, "I think that was the best interview I've done." I suspect he said that to anyone lucky enough to have been deep in the talk with him. But I'd like to think that he meant it.
Tony Earnshaw is a freelance writer and broadcaster specialising in film. For 12 years he was head of film programming at the National Media Museum (formerly National Museum of Photography, Film & Television) and was film critic for The Yorkshire Post from 1995-2016.
Celebrities who have died in 2017, in pictures

© Copyright IBTimes 2023. All rights reserved.