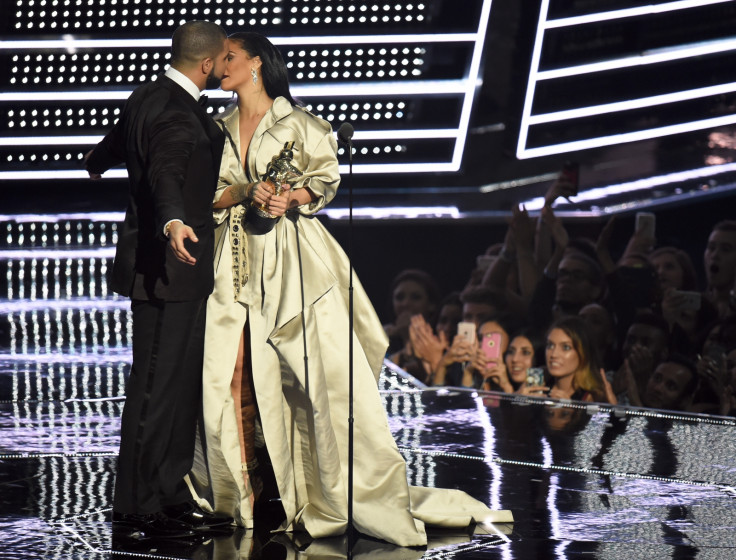 Want to win over the girl of your dreams? Follow in the footsteps of Drake and just profess your love for her in a front of a star-studded crowd at an event watched by millions across the globe. Rihanna and Drake have reportedly decided to give love another try after he gushed about her on stage at the 2016 MTV VMAs.
Entertainment Tonight reports that the frequent collaborators are now 'fully dating', after months of speculation. "No one really knows how long they have been 'official'. they just decided to let it become a thing instead of hiding it from everyone. They're happy," the source said.
RiRi briefly dated the OVO star in 2009, following her very public split from Chris Brown. They were romantically linked again in 2014 when she supported him on his Would You Like A Tour? shows, and they enjoyed a string of romantic dates.
On Sunday night (28 August) Drake made his feelings for the Grammy award-winning diva known as he presented her with the Michael Vanguard award: "We love the music, which could change styles from album to album."
He added: "We love the videos, which change their artistic vision from year to year. But most of all, we love the woman who hasn't changed since day one. She's someone I've been in love with since I was 22-years-old. She's one of my best friends in the world. All my adult life, I've looked up to her even though she's younger than me."
After posing for snaps with her family backstage, the pair allegedly piled on the PDA at an after party, where they were inseparable. An insider said: "They walked in together and never left each other's side all night. He was so attentive to her. His eyes were never off her. They were necking a lot. They would hug and he would kiss into her neck."
The following night they enjoyed some romantic time when they headed out for an intimate dinner date at Nobu in New York City.
Earlier in August, Drake – who previously admitted that he was left heartbroken when she called time on their whirlwind romance – took out a billboard to congratulate RiRi on her MTV VMA Video Vanguard Award.