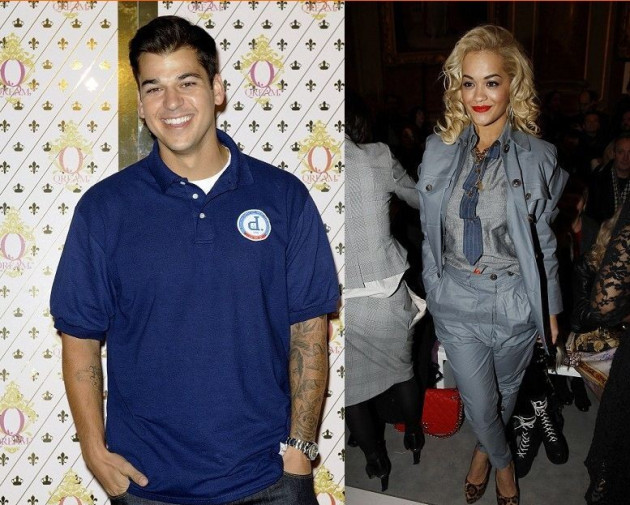 Rob Kardashian has strengthened the reports that he is dating R&B singer Rita Ora, after posting intimate pictures of the two on twitter.
Kardashian posted pictures of him and Ora to his three million followers on the micro blogging site. In one picture, the 25-year- old reality star is seen kissing Ora on her cheek while in the other, the How We Do singer snuggles up into Kardashian's arm as the two sit on a sidewalk. He also referred to her as "Boo" and "Moms" in the posts, but they have been deleted from his Twitter account.
However, this is not the first time that the reports of romance between the duo have been making rounds.
In July, the British singer opened up about their friendship and double date with Kim Kardashian and her rapper boyfriend Kanye West.
"We had sushi. It was good fun. We spoke about music and all that," she told Complex magazine, "I mean, it's not really a relationship. It's not that intense. He's a cool guy. We're close. We're good friends. I got his back and he's got mine. To me, it doesn't matter who you are or where you're from-if you're a good person and you got my back, I got yours. It's that easy for me."
In August, Kardashian and Ora got temporary tattoos of each other's names on their knuckles with the caption: "Sh-t got crazy tonight... What can I say... #tatmynameonya."
When Ryan Seacrest asked him about it, he remained tight lipped about their relationship.
"Rita is in the U.K. I'm just a fan. That's all. I'm a big fan. She does have tattoos," he was quoted as saying in MTV News.
Again, on 22 October, he tweeted a picture of the R.I.P singer singing and called her "the best!"
However, Ora has admitted that she would not be interested to be featured in his reality show, Keeping Up With The Kardashians.
"I love watching KUWTK, but I don't want to be on it. I don't have any interest in doing reality TV," Ora told Hollywood life.
Meanwhile, Ora is set to perform at Monster Jam 2012 at Boston's TD Garden.