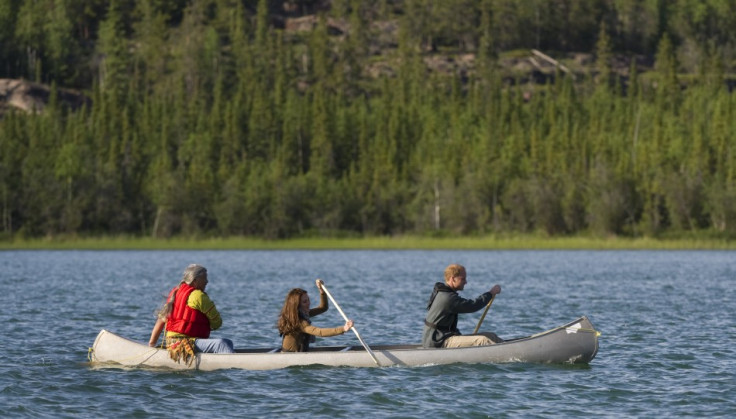 While travelling through Canada's Northwest Territories, (NTW), Prince William whisked his Duchess off to one of the most remote places on earth when they travelled to the tiny Eagle Island, also called Honeymoon Island by locals, by canoe.
The pair spent the evening on the tiny landmass, which boasts nothing more than a few pine trees, a white sand beach between pink granite rocks and great views of the region's famous 'midnight sun'.
Once there William and Kate, who had left their entourage in the mainland, feasted on local cranberries, bannock bread and Caribou steaks cooked over an open campfire in total peace and solitude.
Reports say that William, 29, arranged the evening as a surprise for Kate mid-way through their gruelling nine-day tour of Canada, and afterwards, the royal couple allegedly described the evening as "magical."
The couple arrived in NWT, one of the country's most northerly provinces, late on Monday.
Situated on the edge of the Tundra and adorned with thousands of freshwater lakes, the region boasts some of the most beautiful countryside landscape.
The following day, the royals spent time visiting community projects and taking part in a fun street hockey game in the capital Yellowknife.
Then, in the late afternoon, they boarded a float plane which flew them 100 miles away to the breathtakingly picturesque surroundings of Blachford Lake.