The Screen Actors Guild (SAG) Awards saw a number of stars slam President Donald Trump's executive order in their acceptance speech. The order bans the entry of immigrants from six Muslim-majority countries from entering the US temporarily and an unspecified ban on those entering from Syria.
Julia Louis-Dreyfus grabbed the first award of the night for her role on Veep and wasted no time in taking a dig at Trump's policy in her acceptance speech.
"I want you all to know that I'm the daughter of an immigrant. My father fled religious persecution in Nazi-occupied France. And I'm an American patriot and I love this country. And because I love this country, I am horrified by its blemishes. And this immigrant ban is its blemish and it's un-American," Louis-Dreyfus was quoted as saying by the Washington Post.
"Our guilds are unions of storytellers who have always welcomed those from other nations, and of varying beliefs, who wish to share their creativity with America. We are grateful to them. We stand with them. We will fight for them."
Viola Davis, who won the best supporting actress award for her role in Fences, also took a swipe at Trump's policy when a reporter asked her backstage as to how the people could ensure that years of progress is not hampered under the new president.
"It's bigger than him," she said, "I believe that it is our responsibility to uphold what it is to be an American."
Sarah Paulson won the best actress award for her role in the television series The People vs OJ Simpson and in her acceptance speech called on the people to donate "any money they have to the ACLU, to protect rights and liberties to people across this country".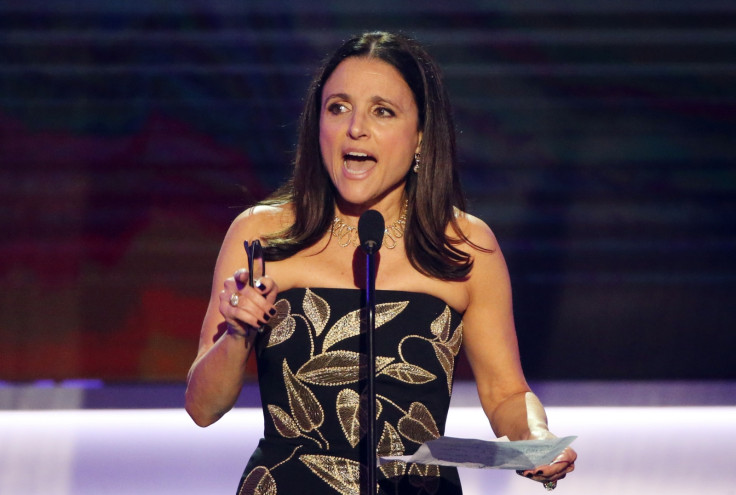 Meanwhile, Mahershala Ali, who won the best supporting actor's award for Moonlight, almost broke down as he delivered a heartfelt speech.
"I think what I have learned from working on 'Moonlight,' we see what happens when you persecute people. They fold into themselves. And what I was so grateful about...was playing a gentleman who saw a young man folding into himself as a result of the persecution of his community — and taking that opportunity to uplift him and tell him that he mattered, that he was okay and accept him," Ali said.
"I hope that we do a better job of that. When we kind of get caught up in the minutiae, the details that make us different, I think there's two ways of seeing that: There's an opportunity to see the texture of that person, the characteristics that make them unique — and then there's the opportunity to go to war about it," he added.