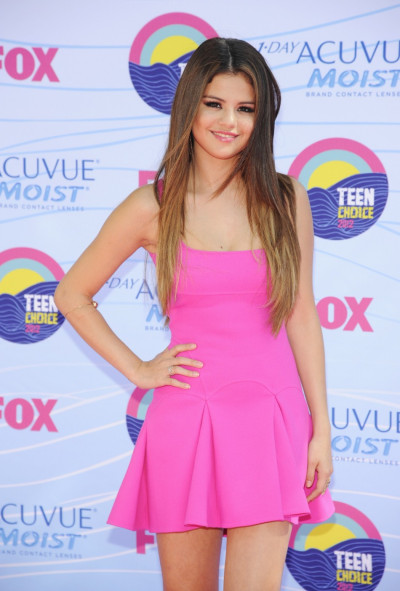 Singer and Disney star Selena Gomez celebrated her 20th birthday on Sunday, at the 2012 Teen Choice Awards. She also received the perfect birthday present - an award for her band, Selena Gomez and the Scene. The singer accepted her award dressed in a dashing Dsquared2 frock and was even presented with a birthday cake and an impromptu concert - the audience, including fellow singers like Taylor Swift, at Los Angeles' Gibson Amphitheatre sang Happy Birthday to the young star while she blew out sparkler-topped cupcakes.
Incidentally, E!Online reports Gomez recently parted with her band, in order to focus on her acting career.
"This is the best birthday present ever," Gomez was quoted as saying by People Online, after receiving her Teen Choice Surf Board. She was accompanied to the evening's festivities by her pop superstar boyfriend, Justin Bieber, who, not to be left out, won a couple of awards himself, including Choice Male Artist and Choice Male Summer Star.
Meanwhile, Gomez, who is also known for her role as Alex Russo on the Disney Channel show Wizards of Waverly Place, has yet more reasons to be happy. She will be seen in a new film - Spring Breakers - where her character will deal with decidedly adult themes like sex, drugs, alcohol and prison... a sure sign the Disney star is growing up.
The young star made her television debut at seven, on popular children's show Barney and Friends, starring with singer Demi Lovato; her best friend now. The duo even launched a YouTube show - The Demi and Selena Show.
Her busy schedule aside, Gomez also finds time for charity work and is the youngest ambassador for UNICEF; she was appointed at 17 and has travelled to the Democratic Republic of Congo as part of a UNICEF mission. The fashionable Gomez also has her own fashion line - the bohemian-inspired Dream Out Loud - available at Kmart and, reportedly, refuses to sanction a design she would not hear.
On an interesting end note, the Who Says singer is known to have a major crush on former fellow Disney Channel star Shia LeBeouf, the star of the Transformers series of Hollywood films.
Click Start to see photographs of the birthday girl, Selena Gomez