Sony must have noticed that we smartphone reviewers like using 'premium' to describe high-end handsets. The Z5 Premium takes the already-very good Z5, increases the screen size, boosts the resolution to Ultra HD - a first for any phone - and adds a mirrored finish to the back.
Does any smartphone really need an Ultra HD screen? Is a pixel density more than double that of an iPhone 6s really necessary? Should you disregard the regular Z5 in search of the Premium? Let's find out.
Sony Xperia Z5 Premium: Screen
We would normally start with discussing the design, but for this phone we have to jump straight to the screen. This 5.5in panel has a 4K (Ultra HD) resolution of 2160 x 3840, and a pixel density of 806 per inch.
For comparison, the equally-sized iPhone 6s Plus has a Full HD resolution of 1080 x 1920 at 401ppi. So why does the Z5 need twice as many pixels, especially when Sony previously said there was no benefit in increasing from a Full HD resolution?
This is tricky to answer, because finding 4K content to play on the Z5 Premium is difficult. Sony says both YouTube and Netflix offer 4K, but we couldn't find any YouTube videos with the option to play at 2160 x 3840 on the mobile app, even on Sony's own 4K channel. The same videos had a 4K option on the desktop, but not on the phone, even in the web browser version. As for Netflix, watching House of Cards using an Ultra HD account produced exactly the same video quality, to our eyes, as on any other Full HD phone.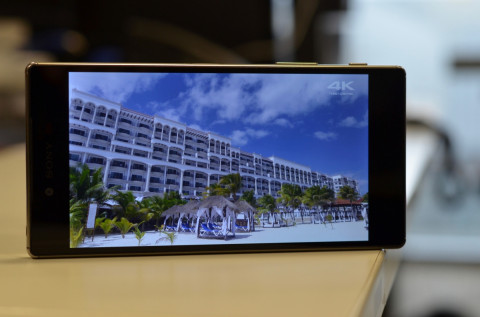 Video recorded by the phone in 4K includes a small logo to help you tell it apart from HD footage, but again, to my eyes these look no different. Sony says the phone works in regular Full HD most of the time, and only switches to 4K when there is such content to show; it also says HD video is upscaled to 4K, but this isn't obvious either.
Despite all this, when Sony sent across three videos in both HD and 4K, you could see some differences. Both looked gorgeous, but of course the 4K versions were brighter, sharper, more vivid and generally better. But it wasn't the night-and-day shift you see switching from SD to HD.
So why has Sony bothered? Well, right at the end of a blog post explaining what the screen can and can't do, display engineer Takao Yagi says the phone "is capable of offering the clearest, sharpest virtual reality platform - we're working on a few things here internally, so stay tuned for more news soon."
VR headsets powered by smartphone screens - like the Samsung Gear VR - currently suffer from grainy image quality due to phones not having enough pixels. Screens like that of the Z5 Premium could solve this, but not today. Not this year.
Sony Xperia Z5 Premium: Look and feel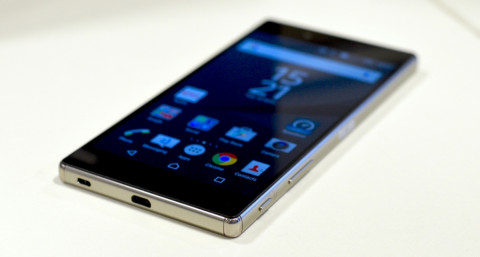 With all that explained, I'm now rather short on words to describe the rest of the phone, but here goes. The Z5 Premium mostly lives up to its name; the chrome body feels like a block of solid aluminium, cold to the touch, and with a reassuring heft to it without being too heavy.
It is also waterproof and has a mirrored back which may not be to everyone's taste, but certainly sets the phone apart from its rivals and Sony relatives. The back didn't pick up a single scratch during my time with the phone, even when I tried to mark it with a key. Sure, having a mirror on the back of your phone is weird - and, surprisingly, it doesn't make taking selfies with the rear camera any easier - but I like it.
Sony Xperia Z5 Premium: Camera
Sony has fitted the Z5 Premium with exactly the same camera as the Z5 and Z5 Compact. That means it's a 23-megapixel sensor which produces some of the best photos we've ever seen on a smartphone. Head over to our reviews of those two phones for more details, but in short I can say that the camera is truly excellent.
Sony Xperia Z5 Premium: Software and performance
There are more similarities with the rest of the Z5 range here, too. The Premium runs Android 5.1 Lollipop on a Snapdragon 810 processor with 3GB of RAM and 32GB of storage - all the same as the regular Z5. There is also a fingerprint scanner on the power button, which seems like a neat place but in reality doesn't always read correctly first time.
Sony's use of the Snapdragon 810 raised some eyebrows when the Z5 Premium was announced, as this processor has a terrible record for overheating - read our review of the Sony Z3+ for more on this. But thankfully with the Z5 range it's a different story. Even 4K video recording is possible without the phone having a meltdown.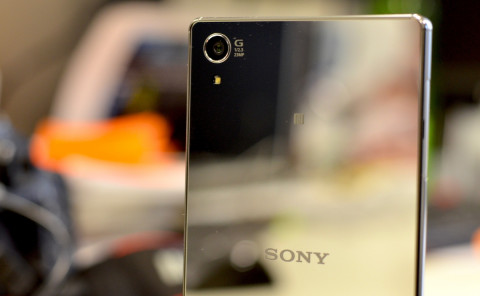 Performance isn't perfect though. Just as with the Z5, the Premium sometimes stutters and stumbles. The camera can take a good few seconds to open, as can the image gallery. I had several apps crash while running in the background. Hopefully a software update will fix this, as I'm confident the processor is now capable, so long as it's working with more efficient and stable software.
Battery life from the 3,430mAh cell is good. It's marginally better than the regular Z5 and can get you through a day and a half without problem. Two full days is likely impossible for all but the lightest users - which, if you're reading a review for a flagship phone, you are probably not.
Sony Xperia Z5 Premium
(8/10)
The Verdict
This isn't as clear cut as I'd like it to be. The Z5 Premium, with its name and its look-at-me mirrored finish, had to be perfect. It also had to justify Sony's decision to fit that crazy UHD screen and boast about the massive pixel count, but it doesn't. While there is definitely a difference between HD and 4K - at least judging by the videos Sony provided us with - the difference is subtle.
This screen is incredible, no doubt about it, but I'm not sure if that's enough for you to buy one over the regular Z5. At £629, it's £80 more than the regular Z5 and I'm struggling to see the extra value here. The biggest numbers don't necessarily make the best phone.
Scores:
Design: 8/10 - Too big for me, but a lovely looking phone all the same. Mirrored back is brave, but works well and is scratch resistant.
Screen: 10/10 - A truly excellent screen deserving of full marks - but a lack of 4K content makes it superfluous for now.
Software: 8/10 - Nice and clean, just as with the rest of the Z5 range, Sony has held back on the bloatware.
Performance: 8/10 - Mostly fast and responsive, but let down by an operating system which occasionally stutters.
Pros:
4K screen wins the numbers game.
Nice, unique design.
Waterproof without design compromise.
Cons:
Hardly any 4K content.

Occasional software stutters.

Too large for some.