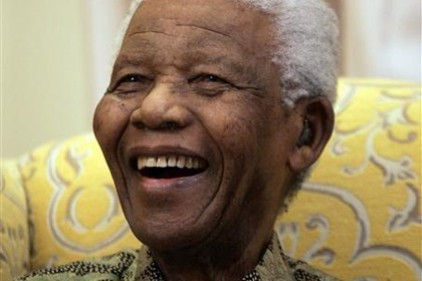 Anti-apartheid icon Nelson Mandela is recuperating well at home after being released from hospital earlier this month, his wife has said.
Graca Machel, the third wife of the former South African president, said that he was on the mend following his 10-day stay in hospital, during which he was treated for pneumonia.
"He's doing well," she said after giving a speech on neonatal care just outside Johannesburg. "That's why I am here."
Mandela was rushed to hospital on March 27, after complaining of a recurring lung infection.
Doctors drained excess fluid from his lungs, known as a pleural effusion to enable him to breathe more easily.
The former leader was discharged from hospital on April 6 and is said to be in receiving "high care" at his Johannesburg home.
At the time of his release, the South African government confirmed that doctors had decided that there had been a "sustained and gradual improvement in his general condition".
The Nobel Peace Prize winner, who spent 27 years in prison for his attempts to overthrow the white-minority government, became South Africa's first black president in 1994.
His hospitalisation for pneumonia has renewed fears over his frail health. It is the latest in a series of health scares in recent months.
In early March he was admitted for a scheduled check-up and in December he was hospitalised for 18 days for a lung infection and for gallstones surgery.