Ahead of the game's full reveal tomorrow (Friday 17 April) at the Star Wars Celebration convention being held in California this weekend, a huge banner with new artwork for DICE's game has been photographed from the show floor.
The image comes from Reddit user 'Man_Of_Steel13', and it depicts a number of iconic vehicles from the science fiction series and hints at space-faring gameplay of some variety.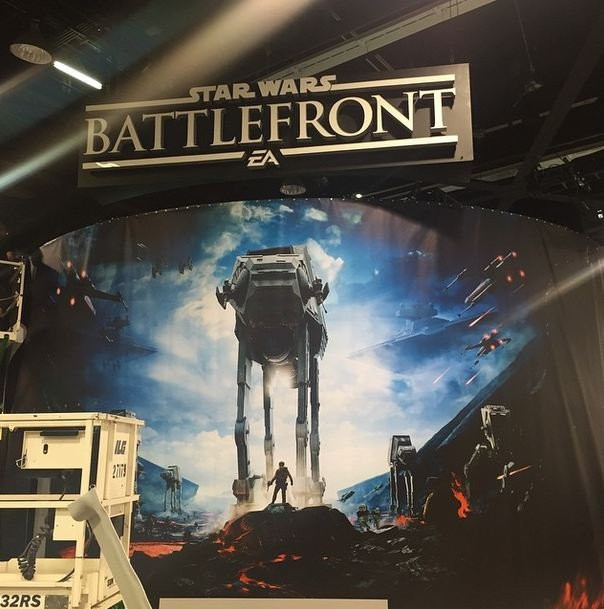 In the foreground an enormous AT-AT walker – famous from The Empire Strikes Back's opening Battle of Hoth – bears down on a lone figure, with other walkers (including an AT-ST), X-Wing fighters and TIE Fighters also around it.
In the background we see a Star Destoryer in orbit around the planet – hinting at space-set battles in the game and possibly a mix of both ground-based assaults and space dog fighting together.
Imagine something akin to Battlefield's 'Rush' mode, starting as a Stormtrooper, fighting through a battlefield like the opening of Empire, jumping into a TIE Fighter and flying out of the planet's orbit and into a scene similar to the climactic Battle of Endor from Return Of The Jedi.
Quite whether this is actually the case in the game we'll have to wait and see. The official reveal comes tomorrow, and will be live-streamed on StarWars.com from 6:30pm BST on Friday 17 April. The second trailer for the new film will also be streamed tonight (Thursday 16 April) at the same time.
All this comes as EA's Star Wars Instagram account has completed teasing a detailed stormtrooper which they say is an in-game asset.