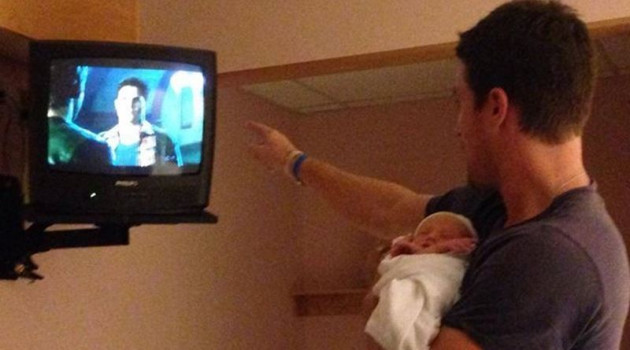 Canadian actor Stephen Amell and his wife, former America's Next Top Model contestant Cassandra Jean, have welcomed their first child – a daughter, Mavi Alexandra Jean.
The 32-year-old Arrow actor posted a picture on him and his newborn daughter on Facebook, in front of a TV showing his younger cousin Robbie Amell in an episode of The Tomorrow People.
"She came just in time for Amell Wednesdays," he captioned the image.
In a statement to Just Jared, a spokesperson for the actor said, "Mavi Alexandra Jean Amell was born on Tuesday afternoon (October 15). Everyone is happy and healthy."
Amell and Jean, who tied the knot on Christmas Day last year while vacationing in the Caribbean, announced they were expecting their first baby back in June.
"I'm excited-no I'm not excited, I'm very excited!" he said then, "I'm sure that nervous energy will accompany that eventually, but only in a positive way."
Meanwhile, Amell had previously revealed that he will not play Christian Grey in the film version of EL James's best-selling book, Fifty Shades of Grey. The 32-year-old actor took to his Facebook page to confirm the news.
"Was on a flight yesterday evening back to LA with no movie, so I grabbed 50 Shades of Grey and burned through it," he wrote, "Ummm... I hope they get the movie made, and I'm sure someone will be excellent in it. That person will not be me."
The search for Christian Grey continues as Charlie Hunnam announced he has no interest to play the lead role.