France has seen a huge rise in people wanting to join the police and armed forces with many young people saying they are keen to defend their country in the wake of the Paris terror attacks of November 2015.
In the second week of March 2016, some 35,663 people were due to sit the French national police entrance exam, 42% more candidates than last year, although only 2,800 will pass muster and be admitted for 12 months' training on 15 July. To be a police officer in France, you need to be aged between 18 and 35, have no criminal record and be a French citizen.
One young recruit, who did not give her name, told the radio station FranceInfo that she signed up out of: "A desire for action, to protect people, institutions and from a feeling of pride.
"Young people have had a wake-up call that after the attacks it is not just the police who can be targets, but any French citizen who might happen to be walking in the street or sitting in a café," she said.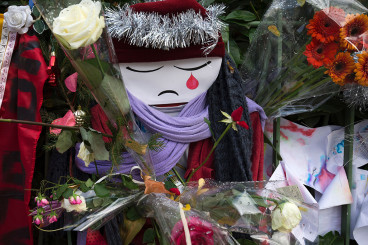 On 16 November, three days after the attacks in and around Paris, French president Francois Hollande announced the recruitment of 5,000 officers to reinforce the country's security.
The French army announced plans to increase its reserve forces from 28,000 to 40,000 by 2018 and army chiefs reported that the number of applicants had tripled from 500 a day to 1500 a day. The head of communications for army recruitment Colonel Eric de Lapresle told Le Monde this was "completely unprecedented".
Support for the French police had surged well before the so-called "Bataclan effect". In February 2015, after the Charlie Hebdo massacre, a poll showed that how 84% of the French public had a positive opinion of the police, jumping 20 percentage points, according to Le Figaro.
However there has been criticism of the French police's handling of the attacks which does not appear to have dented their popularity. Questions were raised over why it took half an hour for a specialised anti-terrorist unit to get to Bataclan Hall and why it took three hours to secure the venue.
The attacks in France have also led to a recruitment drive in the UK. In January, London's Metropolitan Police commissioner Sir Bernard Hogan-Howe announced a push to sign up more armed police. Scotland Yard said it would increase its trained firearms officers by a third, whereby £25m would be set aside to put an extra 600 such officers in the British capital.