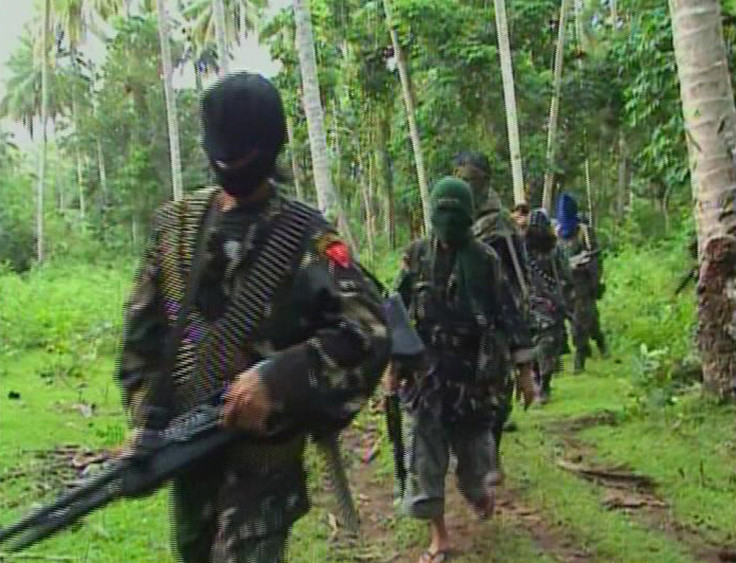 Three foreigners - two Canadians and a Norwegian national - have appealed to their respective governments for help to secure their release after their al-Qaeda-linked captors issued a one-month deadline for their demands to be met. They are believed to have been held hostage for nearly six months.
The two Canadians identified themselves as John Ridsdel, a mining consultant and Robert Hall in the video. The Norwegian identified himself as Kjartan Sekkingstad. Both the Canadian and Norwegian embassies in Manila have declined to comment, Reuters reported.
The three men, together with Maritess Flor, a Filipino woman, believed to be the partner of one of the men, were shown on a video clip, crouching on the floor, with gunmen standing over them. The three men were handcuffed, looked thin, had beards and were not wearing any shirt.
Reuters said the minute and a half video clip was posted on a Facebook page linked to the Philippine Islamists. The four were kidnapped from the Holiday Ocean View Resort in Barangay Camudmud on 21 September last year. They are believed to be held captive in a jungle on Jolo island, a stronghold of the Abu Sayyaf militant group.
In the video, Hall said he did not know how much money his captors were demanding but appealed for help quickly. "The Canadian government has got to get us out of here fast," he said.
Ridsdel said: "To the Canadian prime minister and to the Canadian people in the world, please, do as needed to meet their demands, within one month or they will kill me. They will execute us."
The militant spokesman who appeared in the latest video issued a one-month ultimatum although he did not list the demands. "We will do something terrible against these captives," the masked gunman
This is the third video released by the militants. In November, Ridsdel said in a video that the militants were demanding 1bn pesos ($21m, £15m, €19m ) for each of them.
Abu Sayyaf militants are holding other foreigners, including one from the Netherlands, one from Japan and an Italian missionary, Reuters said.