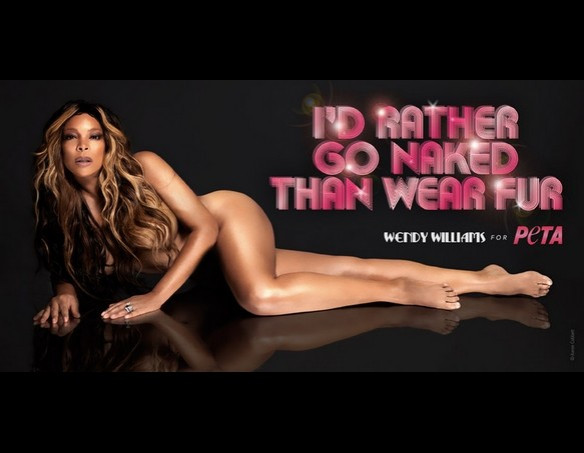 US chat show host Wendy Williams has become the latest celebrity to pose nude in support of animal rights group, PETA [People for Ethical Treatment of Animals] .
The 48-year-old media personality stripped down to her birthday suit for the organization's latest "I'd Rather Go Naked Than Wear Fur" campaign.
For the revealing image, which will be featured on a billboard in Times Square, Willams lays down on her side. She pouts seductively for the camera while her wavy blonde locks cover her breasts.
In the behind-the-scenes interview for the shoot the former fur wearer said: "PETA has proven that there is a sexy way to suggest to people to rethink the fur, and I like it. I'd rather go naked than to wear fur.
"As a former fur wearer, I must say that I have not given fur any thought for a good seven years. I don't think that fur is a mark of success anymore. As a decent person with compassion, it just seems like the right thing to support.
Williams, who joins the likes of Pamela Anderson and Khloe Kardashian in peeling off for Peta, went on to insist that she didn't judge those that choose to keep wearing real fur.
"What I would have to say to people that currently wear fur, I'd softly suggest to keep your mind open and do your research. If you never come around, I still love you.
Ahead of the campaigns unveiling Williams told her 780,000 followers on Twitter: "Today's the day. I'm so excited for the unveiling of my "I'd rather go naked than wear fur" @peta ad in Times Sq at 1p bw 44th and 45th."