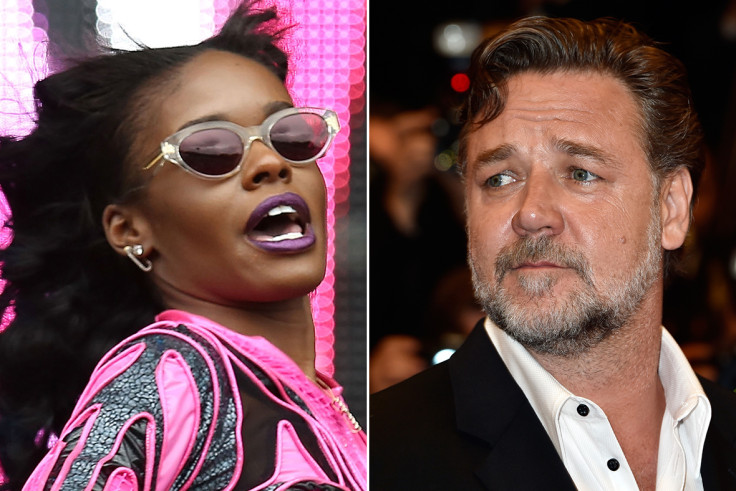 Wu-Tan Clan legend RZA has broken his silence over the alleged altercation between Azealia Banks and Russell Crowe. The rapper and actor gave his account of events in a Facebook post, in which he not only refuted the singer's claims that she was physically and verbally assaulted but corroborated previous eyewitness statements that she was the aggressor.
The American Gangster actor said the Gladiator star intervened after Banks threatened a guest at the intimate bash held in his hotel suite. "Azealia threaten to cut a girl in the face with a glass, then actually grabs a glass and physically attacks for no logical reason," RZA said in the post. "Russell blocked the attack and expelled her from the suite."
"I have a wife, daughters, sisters and females on my staff so I protect women everyday. I pray none of them ever behave the way I witnessed Azealia Banks behaved that night."
Banks − who filed a battery report against the Oscar-winning actor after alleging that he "choked and spat" at his dinner party − gave her detailed version of events in an interview with The Sun newspaper. She claimed the Hollywood actor turned nasty after she rejected his advances and also branded him a "racist, misogynist pig". Insiders told TMZ Crowe simply "bear-hugged" her out of the room before calling security guards to remove her from the hotel.
RZA also refutes claims that Crowe used a racist slur during the altercation: "THIS IS NOT A RACE OR GENDER ISSUE. I did not hear Russell call her a N***s. I'm not trying to protect Russell from anything he is a man of his own Caliber."
The 47-year-old entertainer went on to add that widespread reports he had recently signed the 212 hitmaker were false, but he choose not to paint her in a bad light because he's "not the type to stop the hustle."
"I called a friend and bong a record deal was on the table. The only clause my buddy gave was I be the filter because the word is 'she is volatile'," he explained. "I called her and told her a deal was in the workings. She immediately, prematurely went to social media and claimed she signed a deal with RZA. Yet no deal was signed."
RZA admitted that he has been left deeply "embarrassed" by Banks' behaviour and suggested that alcohol may have been a contributing factor.
"Seeing is believing and I saw her behave as an obnoxious erratic individual and in the circles I frequent this was unprecedented," he says in the post. "I was totally puzzles by her and thought maybe ... booze ... had her zoned out."
Crowe has yet to issue a statement on the supposed incident, but made a point of sharing a TMZ story that claimed Banks called him and other guests "boring white men".