What!? 2K Games has announced that legendary wrestler Stone Cold Steve Austin will be the cover star of WWE 2K16, this year's game in the long-running series.
The news was announced with a trailer ahead of an official reveal that was supposed to take place on WWE's Monday Night Raw, which takes place tonight (6 July). A new trailer was also released starring Austin.
In the trailer, we see his figure digging up his old gear, including the specially designed Smoking Skull championship belt he wore in 1999. Austin has not wrestled since 2003 due to recurring knee problems that forced him into an early retirement. He won the WWE title six times and was inducted into WWE's Hall of Fame in 2009.
"I've had the privilege of working with 2K to support the WWE 2K franchise, and now I'm absolutely honoured to serve as the WWE 2K16 cover Superstar," Steve Austin said in a press release.
"No disrespect to the previous and extremely deserving WWE 2K cover superstars – Dwayne 'The Rock' Johnson and John Cena – but it's about time the franchise raised some hell with yours truly on the cover. I look forward to injecting a dose of Texas Rattlesnake into this year's game and overall campaign."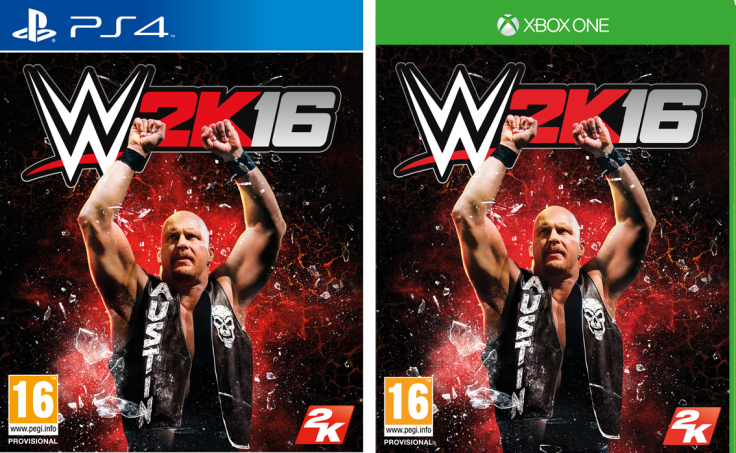 The game was announced in June (though, as an annualised franchise, a new game was inevitable) with the developers revealing not long after that it would feature its largest ever roster of wrestlers, with 120 in total – nearly twice that of the 2014 game.
They also promised none of those 120 wrestlers would be different models of the same person.
So far we know Stone Cold, WWE World Heavyweight Champion Seth Rollins and new NXT Champion Finn Balor will be part of the game, but with 120 stars, it is more a matter of who won't feature. Doink the Clown maybe?
WWE 2K16 will be released on PS4, Xbox One, PS3 and Xbox 360 on 30 October.
For all the latest video game news follow us on Twitter @IBTGamesUK.