Xbox Dev Mode will let users turn their console into a development kit for Windows apps
Microsoft is launching a new app that will allow any Xbox One owner to turn their console into a development kit for Universal Windows Platform (UWP) apps. Announced at the company's Build 2016 developer conference, the Xbox Dev Mode app can be downloaded onto retail models of the Xbox One and allows users to experiment with existing UWP apps, as well as create new ones of their own.
A preview version of the app is being rolled out from today (30 March) and will be made available across all Xbox One consoles in the forthcoming Anniversary update, which has been pegged for summer 2016. Users need to register as a developer before booting up the app but after doing so can switch between dev mode and the standard Xbox One interface as they please.
The announcement sees Microsoft delivering on a long-term promise to make its Xbox ecosystem open and accessible to all, which it pledged to do when the console was first announced back in 2013. Speaking at Build 2016, head of Xbox Phil Spencer said the release reinforced the company's commitment "to empower every developer on the planet".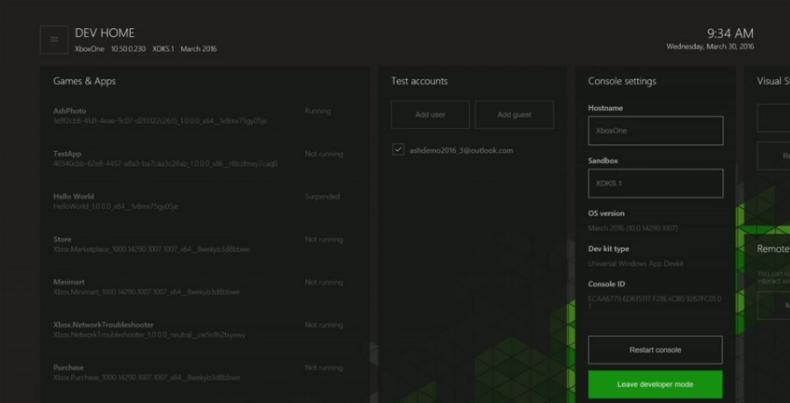 Ashley Speicher, of Microsoft's Windows and Devices team, said: "We're building a truly universal platform where apps run everywhere, including the Xbox One, which provides a huge opportunity for app developers to bring their experiences to life in the living room. Anyone can take an Xbox One and turn it into a dev kit."
Speicher demonstrated how users can pair their Xbox One with Microsoft's Visual Studio development tool and then remotely deploy apps from their PC to the console, or any other connected Windows device. Speicher explained that this would make it easier for developers to optimise apps for consoles, which are typically hooked up to living room televisions.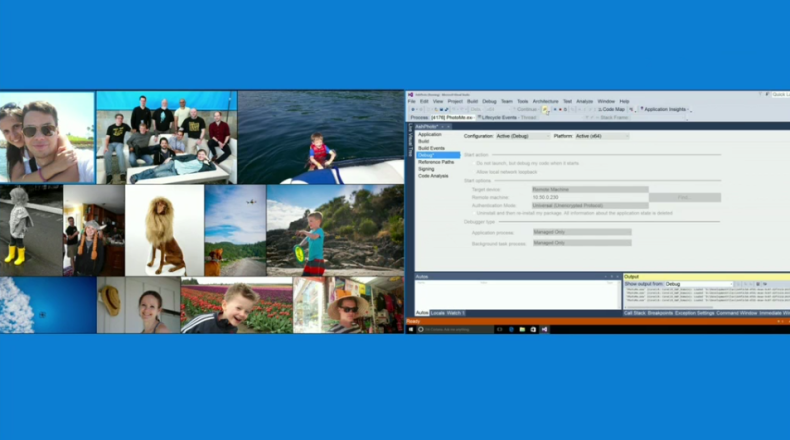 Xbox Dev Mode has been optimised for use with touch, mouse and gamepad controller input, meaning users can test their apps on whichever platform is preferred or immediately otherwise available. Voice input is also available to developers via Microsoft's speech recognition API.
Phil Spencer also revealed that Microsoft's Cortana virtual assistant and (drumroll) background music will be coming to the Xbox One in its Anniversary update.