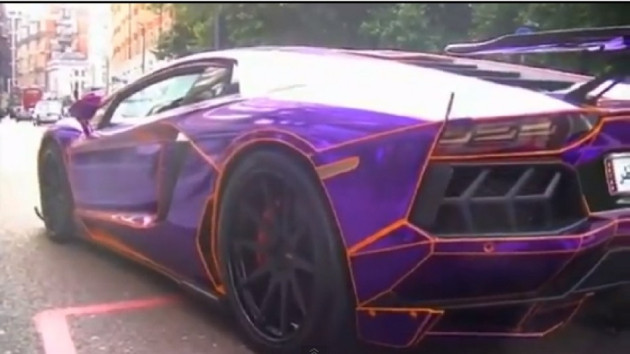 London police have seized an extravagantly flamboyant Lamborghini Aventador, custom painted glow-in-the-dark purple, for not having the proper paperwork. The car was also missing a front number plate.
According to the Mail Online, the owner is believed to be 24-year-old Nasser Al-Thani, who is a member of the Qatari ruling family.
"It is great when the wealthy foreign tourists come over to London every summer as you always see these amazing supercars. The Lamborghini looked like something out of Tron, it was absolutely stunning," an onlooker told the Mail.
The Aventador is produced in two models - the LP 700-4 and the LP 700-4 Roadster - can cost up to £350,000 (minus a custom paint job, of course) and this particular one caused quite a stir near Harrods.
Rated as one of the faster supercars in the world, the Aventador's 6.5-litre V12 engine produces 700hp, taking the vehicle from 0-100km/h in 2.9s. It has a top speed of 350km/h.
Incidentally, this is not the first time the Al-Thani family and their supercars have run into trouble with the law. In July 2010, police clamped two more cars from their stables - a Lamborghini Murcielago and a Koenigsegg CCKR, both painted an unique turquoise blue.
The cars were confiscated outside the Harrods store in Knightsbridge, which the family owns; they purchased it from Mohamed Al Fayed for a reported £1.5bn in 2010.
Tragically, the Murcielago was involved in a high-speed crash a few months later. The blue Murcielago LP670-SV crashed into a BMW M5. Residents of the area complained of street racing at the time.
"... super-rich Arabs from the Gulf bring their cars over here for the summer. We thought it was going to quieten down but it's picking up again. We are kept up until 4am because of these people revving their engines and racing. These Bugattis and Ferraris make a huge amount of noise," people living around Harrods complained.
[Video Courtesy:Youtube/Totalrevssupercars]