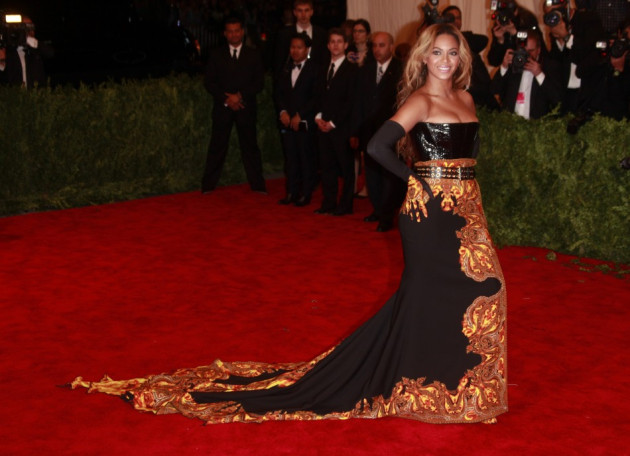 Grammy Award-winning singer Beyoncé Knowles is reportedly pregnant with her second child, according to E!Online. The 31-year-old American singer and her rapper husband Jay-Z are already parents to a daughter - Blue Ivy Carter - born on 7 January, 2012.
Knowles sparked pregnancy rumours after appearing in a custom-made Givenchy gown for the Met Gala red carpet earlier in May. The gown seemed to hide her figure a little too carefully; an E!Online report at the time described the ensemble as a "custom-created skirt hit high at the waist over a structured corset". Finally, what appeared to be a tiny baby bump was visible beneath a skin-tight bodysuit she wore during a concert in Switzerland.
Prior to her performance in Switzerland, as part of the Mrs Carter Show World Tour, Knowles cancelled a concert in the Belgian capital of Antwerp, after doctors advised her to rest "as a result of dehydration and exhaustion".
A distraught Knowles later posted a handwritten apology note on her website. It reads:
"To my dearest fans in Antwerp... I've never postponed a show in my life. It was very hard for me. I promise I will make it up very soon. I'm sorry if I disappointed you. Thank you for your concern. I'm feeling much better now and I'm ready to give you a great show."
So does all this mean Beyoncé Knowles is pregnant? Not really. And if she were, the glamorous diva would probably leave no room for doubt; she announced Blue Ivy Carter by exposing a growing baby bump during a performance at the 2011 MTV Video Music Awards (VMAs) in Los Angeles.
However, we do know Beyoncé Knowles loves being a mother and that she wants more children.
"I would like more children," the singer told ABC News, during an interview for Good Morning America in London, "I think my daughter needs some company. I definitely love being big sister."
"My biggest job in the world is to protect my daughter," she added, "And I am very protective. I just want to make sure that she can have a healthy, safe, normal life. I feel really, really just lucky that I can still do what I love and now have a way bigger meaning -- that's to be her mother."