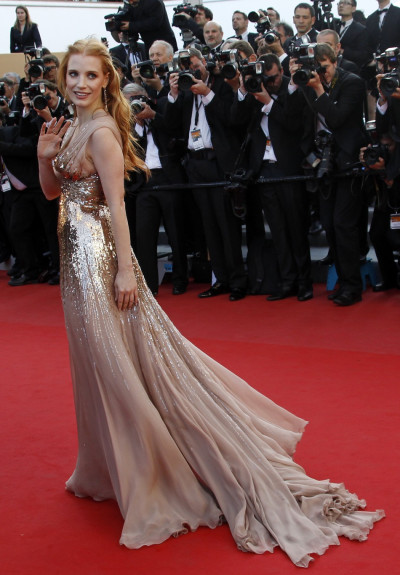 The fourth day of the 65th Cannes Film Festival saw celebrities arrive for the screening of Lawless, directed by John Hillcoat. Among the many glamorous names present were the film's cast members - Shia LeBouf, Jessica Chastain and Guy Pearce.
The other celebrities there included Tim Roth - the president for the Un Certain Regard jury, television host Thierry Ardisson and his girlfriend Audrey Crespo-Mara.
The star of the evening though, was Jessica Chastain, who charmed the crowd with a nude flowy chiffon Gucci gown with gold embellishments that sparkled through the layers. Her hair was pinned up with a Chopard white diamond cluster. Incidentally, the actress did a nude scene for Lawless, which is the story of three brothers and their bootlegging business. The film is based on the novel The Wettest County in the World, written by Matt Bondurant.
"It's going to be interesting to see this film in a huge theater. Because I am, you know, more exposed," she told USA Today, "It will be totally embarrassing. I am going to be bright red. I'll have to cover my eyes during that scene."
Meanwhile, the male actors in the film indulged in some brotherly bonding, with Transformers star LaBeouf admitting he was a huge fan of Tom Hardy (who plays his brother) and that helped work with dedication.
"When you think about it, my character is a fan of his brother. Forrest is the leader of the family; he's the shot-caller essentially...there's a lot of similarities in my dichotomy with Tom in my life and Jack and Forrest," Shia LaBeouf told E online.
In other news, Mistress of the Ceremony, Berenice Bejo wore an elegant Prada Spring 2012 custom gown, while Alice in Wonderland star Mia Wasikowska opted for a J Mendel Fall 2012 creation; the v-necked gown had a gathered center and draped sleeves, without the cut-out, and was accessorised with Chopard diamonds.
During the photo call, actress Marta Gastini wore a lemon Marni Spring 2012 dress and paired it with a Marni necklace with resin beads and a black satin tie. She completed the look with a stunning U-shaped, wood-sculptured heel and a fold-over clutch. Finally, the niece of Italian designer Giorgio Armani, Roberta Armani, came in an androgynous chic black suit.
Take a glimpse of all the action on day four at Cannes