As tensions continue to escalate in the Celebrity Big Brother house, it seems like everyone is ready to walk. It's one of the most volatile groups of housemates in recent years and the vitriolic outbursts show no signs of stopping.
With two evictions so far namely Winston McKenzie who left amid accusations of homophobic comments, followed by Nancy Dell'Olio and US reality star Jonathan Cheban walking out for the sake of his sanity, the housemates seem to be dropping like flies.
After a sleepless night in the house, Angie Bowie also appeared to have had enough, declaring: "I'm done with it, it's over." After Big brother managed to calm her down she had a change of heart and decided to stay. "'I'm sorry I'm so cranky, but when I don't sleep I just, that's it."
Stephanie Davis has also threatened to walk after her brief flirtation with model Jeremy McConnell fizzled out in spectacular style. The ex Hollyoaks star, who was in a relationship with Sam Reece before entering the house, has been getting cosy with Jeremy during their time in their house, and the Irish model admitted that they shared a kiss in the house. Confronted by Scotty T and Christopher Malone about the nature of their romance, he confessed they had kissed "the other night under the sheets".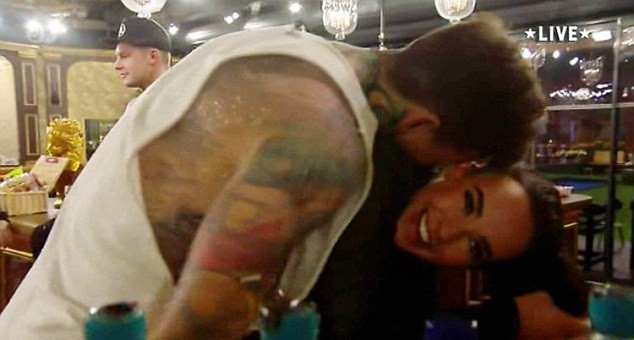 The revelation's prompted fellow housemates Gemma Collins and Danniella Westbrook to question Stephanie on her growing closeness with Jeremy despite having a boyfriend on the outside.
Ex-EastEnders star Danniella said: "It's not fair on him [Jeremy] and it definitely ain't fair on the other fella." Gemma told Stephanie: "t's so wrong what you're doing, you've got a boyfriend. 'I think you're acting like an absolute disgrace."
The intervention sparked a huge row between the pair with Stephanie launching into a defensive rant. "Gem, who the f*** are you trying to speak to me like that? Your attitude stinks, you're a diva and that's why no one's ever liked you." Putting the boot in she added: ""Who are ya? You're off TOWIE. What's your talent? Nothing."
The row seemed to be enough to prompt Jeremy to call time on the blossoming relationship. On Sunday night's episode, the 23-year-old told her: "I'm not a dog ... it's too much, why are you doing it to me for?"
"If you respected me and actually liked me you'd just walk out and leave me be," he said. "'I love you too much to leave you on your own," she replied, rather dramatically but clearly upset by his rejection. He reiterated that "the affection s*** needs to stop. I'm finished. It's like you want your cake and you want to eat it." He added that he 'loves her', but that he's had enough of it all.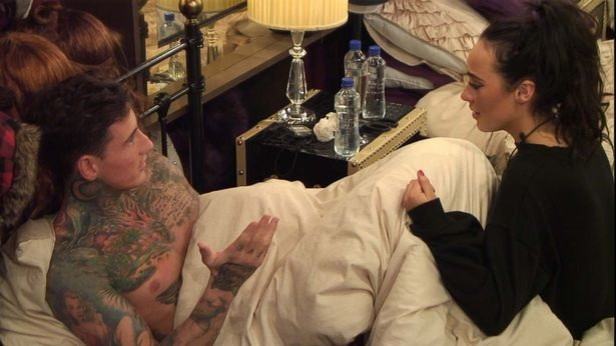 The pair had previously been heard professing their love for one another with Stephanie whispering "I love you."
Stephanie, who previously dated Zayn Malik, was inconsolable and demanded to be let out of the house. " I don't care about the money. I don't want to ruin my life and my relationship for entertainment," she shrieked.
She launched into a foul-mouthed tirade at Gemma, threatening to punch her. "If you let me back in that house I'm gonna end up doing something I regret," she told Big Brother. "Either if that's punching Gemma Collins in the face which she deserves. She's a f***ing diva, big lion headed c*** who's an absolute k*** and people that do like her need to give their head a wobble because she's disgusting."
She received a warning from Big Brother for her threats of violence. A CBB spokesman confirmed: "Big Brother has reprimanded Stephanie for her behaviour." While it's not clear whether she was more upset about being spurned by Jeremy or at the prospect of being dumped by Sam Reece she did however admit that she'd made a mistake with Jeremy, adding: "I took it too far being close to Jeremy and I'll never be able to forgive myself."
As for Reece, he was noticeably absent from the crowd on eviction night and while he admitted the couple have some talking to do, he has been hitting the town for a boy's night out. Meanwhile, fans of the show had a lot to say about Stephanie on Twitter and they didn't hold back.
Game face. pic.twitter.com/IQvIQhnmhw

— Sam Reece (@SamReece) January 17, 2016
Stephanie has a cheek to comment on Gemma's talents. What are you famous for, love?? being a drunk and getting sacked from a soap! #cbb

— Kevsie (@Kevsie) January 17, 2016
Got to feel sorry for Stephanie's boyfriend but in time to come, he'll be the one laughing and winning #CBB

— Ashley (@Ashleyybrewer) January 17, 2016
Stephanie you are a disloyal horrible girl & that's why people have trust issues. #CBB

— CHRIS BAXTER (@IamChrisBaxter) January 17, 2016
Stephanie went into the house to change people's perceptions of her. Not sure this has been particularly successful #cbb

— Jonathan Harvey (@JOJEHARVEY) January 17, 2016