Kendrick Lamar fulfilled expectations with a dominant headline set at Coachella 2017, while pop upstart Lorde debuted Homemade Dynamite and covered Kanye West in a fearless performance on Sunday (16 April).
Lamar, fresh from releasing his fourth full-length LP, Damn, on Good Friday (14 April), took to the stage in typically forthright fashion.
Opening the show with the Fox News segment heavily featured on the album that hears host Geraldo Rivera state "hip-hop has done more damage to young African Americans than racism in recent years", the 29-year-old maintained the burning momentum throughout.
Performing DNA, which challenges prejudicial social stereotypes of the black community – during which ninjas took the stage – he also performed Element, Lust, XXX and God from the new release.
The set also saw a host of guest appearances, including Travis Scott, who joined in a live collaborative performance of Goosebumps from Birds in the Trap Sing McKnight.
Heavyweight Drake collaborator Future also appeared to perform Mask Off, with Lamar acting as make-shift hype man.
Amidst a host of older material, the Compton star hung mid-air to deliver Pride, before closing with lead-single Humble and returning with Love for the encore.
However, to the disappointment of many fans, theories that Lamar would reveal an unexpected second new album at the festival, proved unfounded.
Lorde gains holy approval from Coachella crowd
Earlier in the evening, New Zealand pop anomaly Lorde graced the main stage in Indio California, days on from Friday's surprise gig that marked the 20-year-old's first performance since 2014.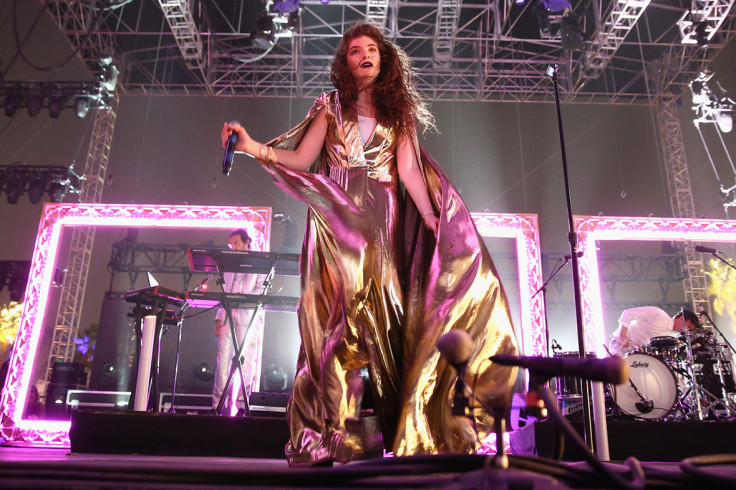 The David Bowie approved songstress, who seemed relaxed and was frequently conversational on-stage, then delivered the world-premiere of a new song called Homemade Dynamite, according to Pitchfork.
It has not yet been confirmed if the track will be on Lorde's new album, Melodrama, set for release on June 16.
The singer, who recently appeared on Saturday night Live, also took the opportunity to deliver and brief rendition of Kanye West's runaway as she introduced Liability. Watch below.
Fortunately, neither of the acts were affected by the sound problems that plagued Radiohead's set on Friday (14 April).
Kendrick Lamar's Coachella setlist:
BLOOD. (Intro)
DNA.
ELEMENT.
King Kunta
Untitled 07
Untitled 02
Goosebumps (w/ Travis Scott)
Swimming Pools
Backseat Freestyle
Bitch, Don't Kill My Vibe (Remix)
FEEL. (as an Interlude)
That Part (Remix) (w/ ScHoolboy Q)
LUST.
Money Trees
XXX.
M.A.A.D City
YAH. (as an Interlude)
PRIDE.
Mask Off (Future w/ Kenny ad-libs)
Alright
FEEL. (as an Interlude)
GOD.
HUMBLE.
LOVE.
Lorde's Coachella setlist:
Green Light (intro)
Tennis Court
Magnets
400 Lux
Buzzcut Season
Homemade Dynamite
Ribs
Sober
Sober Interlude
Runaway (snippet)
Liability
Royals
Team
Green Light