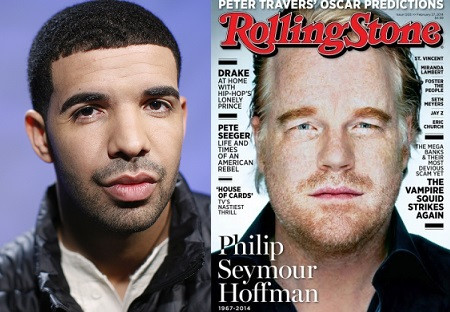 Canadian rapper Drake was "disgusted" that Rolling Stone magazine featured actor Philip Seymour Hoffman on the cover of its latest issue instead of him.
In a series of irate tweets against Rolling Stone, Drake declared he was "done doing interviews for magazines". He had also complained that the music magazine misattributed his quotes regarding Kanye West's latest album, Yeezus.
Hoffman was found dead at his New York apartment from a suspected heroin overdose on 2 February.
"They took my cover from me last minute and ran the issue," he wrote on the social media site.
"I'm disgusted with that. RIP Philip Seymour Hoffman. All due respect. But the press is evil."
In his final tweet during his rant, Drake added: "I'm done doing interviews for magazines. I just want to give my music to the people. That's the only way my message gets across accurately."
The rapper deleted the two tweets but not before several Twitter users expressed their dismay at his "disrespectful behaviour".
"Drop dead at your earliest convenience. You get to be in a lot of covers that way," one user wrote.
Drake also expressed his anger about how he "never commented on Yeezus for my interview portion with Rolling Stone," despite several quotes from him appearing in the article.
In the interview, Drake was quoted saying that he and West were "plotting on getting some work done together" but he believed there were some "questionable bars" on the rapper's latest album.
Drake said those remarks were off the record.