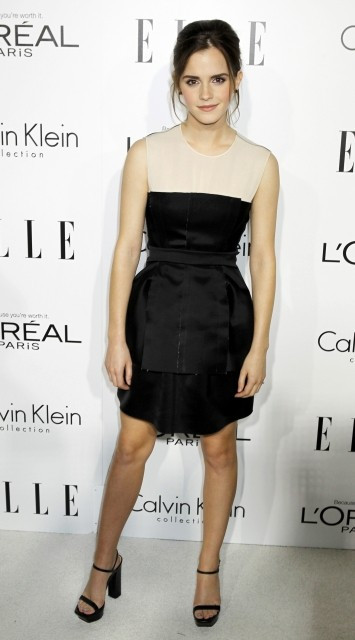 Nine actresses from Hollywood were honoured at ELLE's 19th annual Women in Hollywood Awards function, held at the Four Seasons Hotel in Beverly Hills, California, on 15 October.
The actresses honoured were Americans Elle Fanning, Uma Thurman, Shirley MacLaine, Octavia Spencer, Susan Sarandon, Sarah Jessica Parker and Kristen Wiig. British actress Emma Watson and Australian Cate Blanchett were also recognised for iconic performances in films.
The evening's stars walked down the aisle in style, dressed in chic ensembles from fashion house Calvin Klein... and a number of them wore black. Watson, for example, wore a black and cream Calvin Klein block dress, clinched at the waist. The Harry Potter star teamed the dress with black high heels and styled her hair into a high bun, with a few loose strands artistically arranged. The effect was stunning.
Oscar-nominated actress Uma Thurman and Academy Award-winning veteran Susan Sarandon were also in black Calvin Klein. Thurman, 42, wore a skirt and blazer outfit with a sleek belt around her waist, while Sarandon, 66, slipped on a closed-neck, front-buttoned top and baggy trousers.
Meanwhile 14 year old Elle Fanning, who acted in the Matt Damon/Scarlett Johansson starrer We Bought A Zoo, wore a black lace dress paired with a printed Dolce & Gabbana purse and shoes.
There were exceptions too. Sarah Jessica Parker, best known for her role as Carrie Bradshaw in Sex and the City, was a head-turner in an ash-coloured tube dress paired with David Yurman jewelry. And Kristen Wiig wore a bright spring green calf-length, slinky Calvin Klein with nude stilletoes.
The Help star Octavia Spencer opted for a non Calvin Klein look - a deeper emerald green Tadashi Shoji creation. And Australian actress Blanchett followed suit, turning out in an admittedly unexpected but pleasingly colourful printed Proenza Schouler creation.
Check out the slideshow to see snapshots from the ELLE Women in Hollywood 2012 event. Click on Start to begin