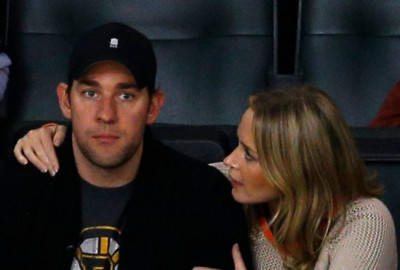 Emily Blunt and husband John Krasinski have welcomed their baby daughter Hazel into the world.
The 34-year-old star, who played Jim Halpert in NBC sitcom The Office, took to Twitter to share the news.
"Wanted to let the news out directly. Emily and I are so incredibly happy to welcome our daughter Hazel into the world today! Happy bday!" he tweeted.
The two had announced that they were expecting their first child together in September 2013.
The Devil Wears Prada star and Krasinski started dating in November 2008 and were married in 2010 at a ceremony in Italy.
"I feel like everyone poo-poos actor relationships because they say they always end in divorce and tears," Blunt told The Times in April 2012, "But that's only because it's in the news and it's broadcast to the world. John and I can talk about everything, and it's nice, because we have a very deep understanding of what the other person does."
Blunt had also spoken about the couple's desire to start a family.
"We want to have children; I just don't know when yet. I'm just not sure about the timing of all of that. We're both from big families so I think it's something we want," she told Manhattan magazine in May 2012.
Meanwhile, Blunt's voice is featured in Disney's upcoming anime film The Wind Rises, which will hit North American theaters on 21 February. The Hayao Miyazaki-directed flick also features the voices of Joseph Gordon-Levitt, Stanley Tucci, and Elijah Wood.