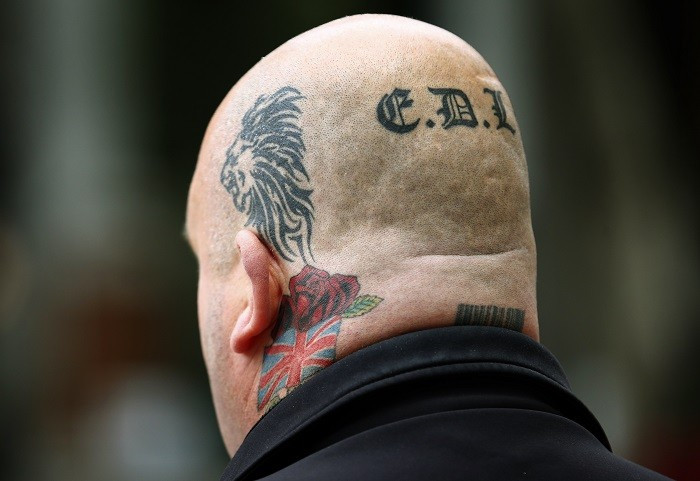 An English Defence League (EDL) leader, who campaigned against Muslim gangs for abusing children, has been convicted of abducting a schoolgirl.
Lincolnshire EDL leader Paul Whiteside admitted helping a 15-year-old girl run away from her family, and was found to have partly-clothed pictures of her in the bath.
Lincoln Crown Court heard Whiteside struck up a relationship with the girl in the Lincolnshire market town of Louth, through EDL connections. He had met her a number of times after school, chatting to the girl for up to an hour at a time, reported the Grimsby Telegraph.
The girl later argued with her family about the far-right leader before running away, and contacting Whiteside.
The behaviour of the 47-year-old had alarmed neighbours so much they took photos of the pair and alerted police.
Police found "some photographs on his [Whiteside's} phone of the girl", said to prosecutor Esther Harrison.
Harrison added: "They show her in various states of undress and her in the bath. They were not deemed to be indecent images."
Judge Simon Hirst said: " You have not been charged with those photographs but it is clearly a worrying feature of this case."
Whiteside was handed a 10-month jail sentence suspended for two years, an 18-month restraining order banning him from contacting the girl and a 10-year sexual harm prevention order.
The Lincolnshire far-right leader had previously campaigned against child grooming, claiming gangs linked to mosques were responsible for abusing girls.
The EDL said it had "relieved" Whiteside of his position in the group. In a statement it added: "We will neither defend nor support any person who undertakes child sexual exploitation or abuse, particularly where grooming is involved."
An NSPCC spokesperson said Whiteside's behaviour was "disturbing" because he "deliberately kept a vulnerable girl from her family and cruelly added to their suffering when he tried to deny knowledge of her whereabouts".