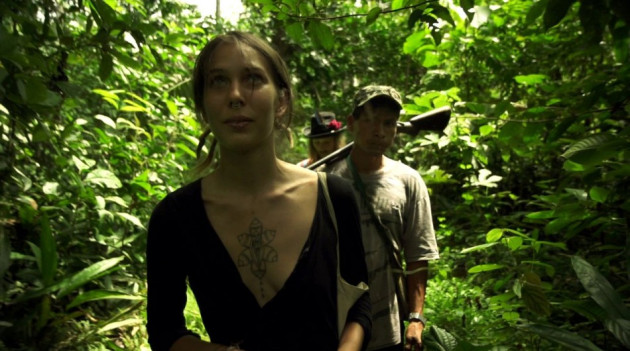 Sex sells. Though this term is normally used in advertising, it's now been adopted by the most bizarre of charities.
German NGO F**K For Forest is an environmental organisation that raises funds to save the world's rainforests through the production and online distribution of home-made pornographic photos and videos.
Though it has been around since 2004, a new documentary sheds light on the efforts of this unorthodox group, following their neo-hippy lifestyle from the streets of Berlin to the depths of the Amazon rainforest as they attempt to use sex to save the world. The film's director Michal Marczak spoke to IB Times UK about his motivations for making the movie.
"A friend of mine saw a little article about them in a newspaper and gave it to me, and I thought it was a very bizarre concept combining sex, drugs, rock 'n' roll and ecology," he says.
Hardcore Porn
What most fascinated Marczak were the videos themselves, home-made erotic material made by the members of the group indulging in various sexual practices. The filmmaker says that unlike mainstream pornography, these videos are conducted by people willingly with a clear charitable purpose in mind.
"They're hardcore, they're amateur and they're very badly made," he laughs.
"But there was some kind of truthfulness to them. I saw the people weren't acting, they weren't pretending to be anybody that they're not."
Whilst most would dismiss pornography as purely exploitative, here the charity turns this idea on its head by using the pornographic material as an exhibitionist tool that finances their altruistic efforts.
"So many people will not accept that there can be a good type of pornography," says Marczak.
"Many people think that pornography is just exploitative, that there's no way people ever do it out of their own desires, and that it can be fun and interesting. I do not want to idealise it, but there are many groups that do it because they enjoy doing it, and they have either a hyper-sexual drive or need that voyeuristic element, exhibitionist element, and without it they will not reach satisfaction, so why not use it to good use?"
Free Love
The film also reveals that it's not just the group that takes part in these sexual acts for the screen, as they spread their green message across Berlin and get strangers to participate on camera.
"There's a whole array of characters who star in these films who are just found randomly on the streets, and I was just wondering what it is that random people who are approached by this group on the streets of Berlin, that they're willing to go to the bushes with them and have sex or take naked photos. So I was really curious to see what it is that makes them tick, what it is that makes them do what they do," says Marczak.
With F**k for Forest these pornographic films are not just a means of raising funds, but are instead the cornerstone of the group's countercultural philosophy, that of breaking away from the social mores of western society and embracing the anarchic ideals of free love.
"I started seeing them as dreamers who came up with their own little wonderland where they indulge in their activities and live according to their own rules and laws. I always like that sense of rebellion in people, doing everything they can not to live nine to five," says Marczak.
"I think they're different from Pussy Riot for example, who really use nakedness to get a message across. It's not something they do every day, unlike F**k for Forest where it's their lifestyle. They really believe that we should be able to walk around naked, we should be able to make love wherever we want, we should be able to make love in public. F**k for Forest is making use of their philosophy, of their way of living."
Whilst some might dismiss their efforts as scandalous and self-indulgent, there's no question it's an effective fundraising tool. Through donations to the site the group claims to raise around €100,000 every year. The real challenge is finding the best way to distribute this money in order to make a difference.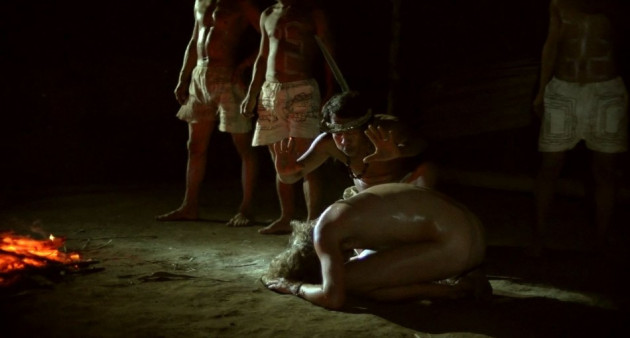 Amazon Adventure
The movie is one of two halves, with the first spent on their fundraising efforts and lifestyle in Berlin before charting their voyage into the depths of the Amazon to try and help protect the rainforest there. Marczak says that not knowing how the journey would pan out was both terrifying and exhilarating.
"We had no clue. Every single day we had no clue what would happen next," he says. "It was a wonderful adventure travelling with six half-naked Europeans though some very conservative territories in Latin America."
The group venture to a remote village in Peru after receiving an email from a local villager asking for their help. The massive gap between these two cultures is highlighted when the villager reveals he trekked miles to find the nearest town with internet access, and even then wasn't sure if it would be available as it was a Sunday.
Despite this request for outside aid, the rest of the locals have had enough with western intervention and are not willing to trust these scruffy half-naked Europeans regardless of what they promise. Marczak can't help but point out the irony of the situation.
"The main group are doing everything they can not to live nine to five, they get to the people they want to save, and those people all they want to do is live a nine to five job," he says.
"They are a very scared people. The scams that white people, especially Europeans, have administered on their land is just unimaginable."
Naïve Charity
Rejected by the village, in this circumstance the group's efforts come to nothing. The film highlights not only the hedonistic lifestyle of the group, but the naïve aspects of charity and foreign aid. Despite wanting to break free from Western convention, the efforts of F**k for Forest in the end replicate previous neo-colonial European efforts to intervene and 'fix' another society's problems.
"We spent many months down there after we finished filming talking to anthropologists and talking to NGOs that work there and most of them would tell us that all the help is going to waste," Marczak says.
"People come with pre-conceived notions of what it is they want to help with, and sometimes the situation is way more complex than that and you need to fix something completely different. You need to be more flexible, go in and understand what it is that is the underlying problem, and then help over a very long time. Instead people want to pump in money and get a quick return. I don't think that's possible."
The film shows that the problem for most chareities is not raising money, but distributing the aid effectively so that it genuinely makes a difference. But the failure of the mission shown in the documentary has not deterred F**k for Forest from continuing to try and save the world. Whether you agree with how they go about it is entirely up to you.
"I think it depends on the viewer's own dreams and ideals," says Marczak.
"People who protect their step by step lifestyle without letting any chaos or anarchy into it will hate these people. But those with an affinity for a little punkishness will follow these people more. So it's all up to the viewer."
F**k for Forest is released in cinemas across the UK from 19 April and is available to download from iTunes.