Sony has just confirmed the release of Last of Us Remastered edition for PS4 (due later this summer) in a recent Twitter update as well as on the official PlayStation blog.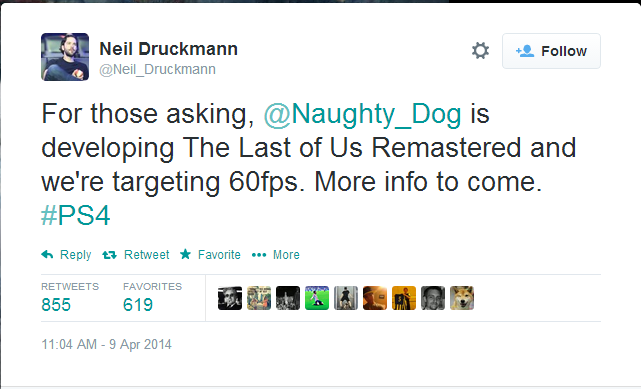 Neil Druckman, the game's creative director, has recently tweeted that Naughty Dog is developing the Last of Us Remastered for PS4 and targeting 60fps.
The Last of Us Remastered edition is reportedly up for pre-orders via Sony Entertainment Network site at $59.99 in the US, which roughly translates to £35 or AU$65. The pre-order link seems to be currently down for some reason, according to TechRadar.
Though there is no official confirmation on the release date for the Remastered version of Last of Us for PS4, a Spanish retailer has speculated that the game would arrive on 19 June.
GTA 5 Release Date for PC, Xbox One and PS4
Meanwhile, fresh rumours about an impending GTA 5 release for Xbox One and PS4 are gaining momentum, as the manager of German retailer Saturn.de, has hinted at a June release for the said consoles and PC in a recent tweet by TECH-NICK.
As BGR reports, TECH-NICK later clarified in another tweet that the release information is only a rumour. We might have to wait until E3 in June to know the exact release details for GTA 5 on the said gaming platforms.