Russell Crowe is never usually one to fluff his lines, but it appears the Hollywood actor may have let slip that Ed Sheeran is secretly engaged to his girlfriend Cherry Seaborn.
The Gladiator actor reportedly revealed the news while discussing his friendship with the pop star — describing Seaborn as the British singer's "fiancee".
According to The Sun, Crowe said: "We became friends through people we know and he was on tour and came to stay. We just became friendly and he has since come back with his fiancée for more time and stuff."
Sheeran, 26, has been in a relationship with 24-year-old Seaborn, an old schoolfriend, since 2015. The couple cemented their relationship last year while the flame-haired chart-topper enjoyed a hiatus.
Representatives for the Shape Of You hitmaker are yet to respond to requests for comment over the validity of Crowe's remark, but the Oscar winner's closeness to the Sheeran appeared apparent when he warmly presented him with a Brit Award in 2015.
Sheeran previously stated he feels "pretty good" about the possibility of marrying Seaborn, his "childhood sweetheart", telling KIIS 1065 radio that he would "definitely love kids in the future".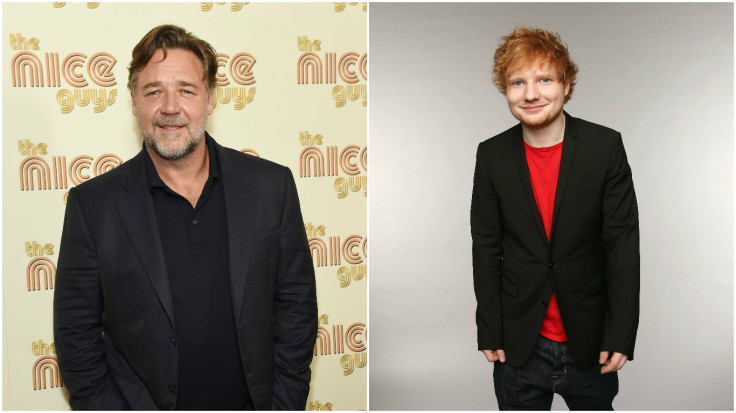 Secret party drink backfires
Beyond exposing potential wedding plans, 53-year-old Crowe also revealed he had introduced Sheeran to a home-made alcoholic drink that is supposedly hangover free due to its high water content.
However, it seems Sheeran, who frequently references drinking in his songs, experienced far from sober consequences when he tried to make the concoction himself.
"I saw Ed in London and he said, 'Man, you got me in so much trouble' recently. So he makes the drink – but he forgets all about the water.
"His security guy tells him, 'Last night you took your shoes off in the restaurant and licked a woman's face. I was like, 'Ed, the principal message I was passing on was the hydration'."
IBTimes UK has contacted Sheeran's representatives for comment