Three drug smugglers, who rented a helicopter to transport £12m of cocaine and heroin into the UK from Belgium, have been jailed. The elaborate plan involved Dutch pilot Niels Wartenbergh, 28, flying the rented aircraft from Redhill Aerodrome on 21 April this year, with 27-year-old passenger Ricardo Vorstenbosch.
The plane was rented for 24 hours and the pair packed the small aircraft to the brim with 43kg (95lb) of cocaine and 60kg (132lb) of heroin. On return to the UK they dipped below the radar to drop the drugs in a secluded area in Kent.
It was then that courier Joseph Peel, 39, was seen collecting the drugs inside six holdalls. The trio were standing trial at Croydon Crown Court, where all three pleaded guilty to conspiring to import class A drugs.
Wartenbergh and another Dutch national Vorstenbosch were jailed for 18 years each and Peel, from North Kensington in London, was handed a 16 year sentence. The helicopter was being tracked as part of an investigation involving multiple law enforcement agencies including Great Britain's National Crime Agency (NCA), Metropolitan Police, Border Force, and the Dutch and Belgian authorities.
The NCA said that Wartenbergh and Vorstenbosch were arrested shortly after they landed at the rental depot in Redhill. Peel then attempted to make a 100mph getaway from police on the M20 in a hired BMW.
He eventually was stopped by the Metropolitan Police when he pulled over on the London-bound M26. Peel had more than 30 encrypted mobile phones in his possession
On the same day, Dutch police searched Vorstenbosch's home in Eindhoven, where they found another 3kg (7lb) of cocaine, drug pressing equipment, and a gun.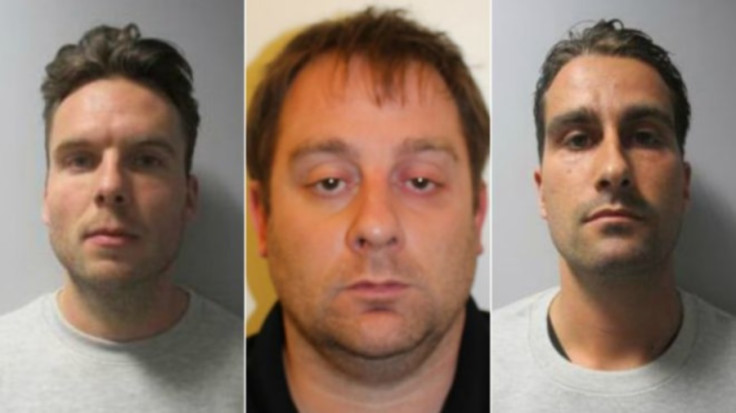 Head of the NCA's team at Gatwick, Gary Fennelly, said they were aware of criminals using small airfields as a way into the UK. He said: "In addition to recovering over 100kg of class A drugs, the operation prevented crime on a much wider scale by denying the sale of drugs worth millions to the crime group."
Detective Sergeant Neil Turner of the Met's Special Projects Team said: "This operation highlights the successful disruption to both national and international crime networks that can be achieved when law enforcement agencies work in partnership. As a result of this collaboration, a huge amount of Class A drugs will not be available for sale on London streets."