Jeff Hardy is grateful that the infamous Sting fight helped him change his life: 'I went too far'
Jeff said he entered the ring in a 'f****d up' state as he was under the influence of prescription pills.
Jeff Hardy has revealed that the infamous fight with his idol Sting for the TNA Heavyweight Championship at Victory Road in 2011 was an "eye-opener" as he was so intoxicated that he was not able to wrestle. The Vigilante was forced to end the match in a few seconds.
Speaking on latest episode of The Art Of Wrestling, the WWE Raw tag team champion told podcast host Colt Cabana that he entered the squared circle in a "f****d up" state as he had taken muscle relaxers. "2011, with Sting, I was taking somas and I went out there f****d up, and, man, I couldn't even wrestle. For the first time in my life, I went too far. I couldn't wrestle my idol, basically, Sting, and he had to do the right thing and shut me down and pin me," he said.
"That deal with Sting, man, honestly, was the best thing that ever could have happened to me to straighten my ass up."
The dare-devil did get his act together the following year, which he described as one of the best years of his career.
"He was so great after that and coming back in the best shape of my life in 2012, whenever that was when I won [TNA's] world title again or whatever. Basically, in a way, in a sick way, that was kind of an eye-opener for me to see that and to feel pitiful for myself."
Jeff continued, "2012 was one of my best years ever, coming back from that tragedy of a story and just... So basically being on the road so much, I got carried away. The addiction got the best of me."
He also revealed he had his first beer when he turned 22, but started doing crazy things such as GHB – commonly known as the "date rape" drug.
"It was nuts, man. Back when GHB was... if you remember that whole thing, now it is known as the date rape [drug]. That was the first drug I ever did and once you do that, it's over. It's over."
He also said the hectic WWE schedule between 2002 and 2009 – and with no other outlet to relax his mind – led to his drug addiction.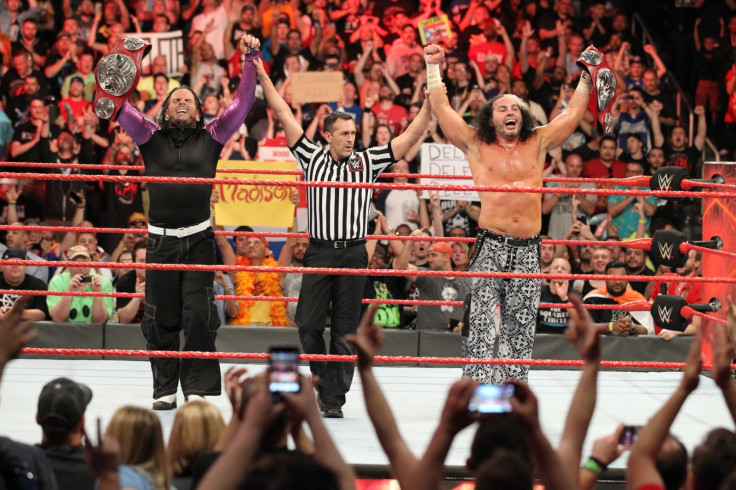 © Copyright IBTimes 2023. All rights reserved.