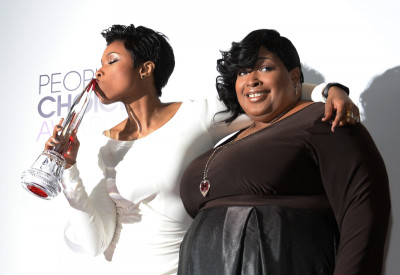 Jennifer Hudson reportedly threatened to leave the People's Choice Awards ceremony, unless former friend, rapper Lord Kraven was removed from the audience.
According to Radar Online, Hudson was upset after seeing Lord Kraven sitting in the front row and had him tossed from his spot by security.
"Jennifer loudly threatened 'Either he leaves or I leave,' and was waving her finger in the face of a security guard," the source said.
Kraven was then removed from his chair and "the situation continued to escalate outside the main auditorium and required the assistance of LAPD (Los Angeles Police Department)."
The insider added that an LAPD officer came to Lord Kraven's rescue, determining that the Nokia Theatre security team should not have removed him, offering to escort him back to his seat.
The two who were once close friends, had a major falling out after Lord Kraven appeared on HLN's Showbiz Tonight, during the 2012 murder trial of Hudson's family.
The rapper took to his Facebook account to respond to the news writing, "OMG! I can't believe THIS! JENNIFER HUDSON, look what YOU HAVE CREATED! This is absolutely ridiculous! I am #Speechless!!! This headline is everywhere!! Ugh! #TimeToGROWUP#TIMEtoBEMature #TimeToGetOverYoursefl"
Meanwhile, at the event, Hudson gave an emotional acceptance speech after being honored with the favorite humanitarian award, for her work with the Julian D. King Gift Foundation, which she formed with her sister Julia Hudson in honor of their slain nephew Julian King.
"I have to start off saying the same thing I said when I won my Oscar -- look what God can do!" Hudson told the audience. "My mother always taught us that without family you have nothing, and whether you know it or not all are family, and what happens to the other happens to us, so it's very important to make a difference."
"It's one thing to be a celebrity and have power ... but it means nothing if we're not helping someone else. It also feels good to see positivity acknowledged," she added.