Jennifer Lawrence Stuns in Black at The Hunger Games: Catching Fire New York Premiere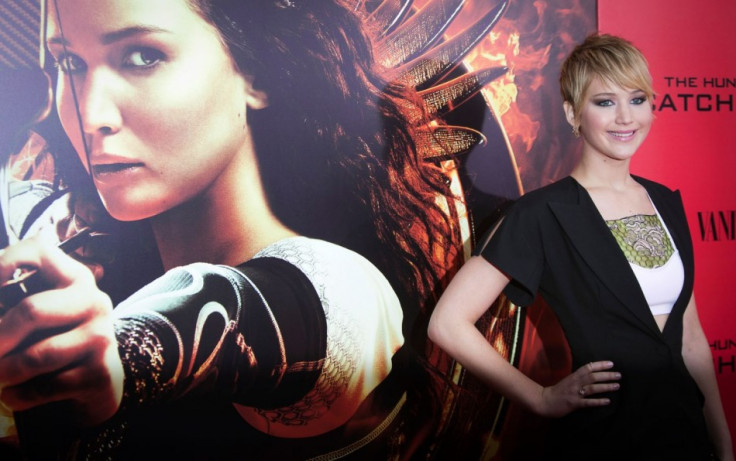 Oscar-winning actress Jennifer Lawrence turned heads as she walked the red carpet for the premiere of her new film The Hunger Games: Catching Fire at the AMC Lincoln Square in New York City.
The 23-year-old wore a a Dior black wool, tuxedo-style jacket and combined it with a pink and lime knitted bra top underneath. She completed the look with Manolo Blahnik shoes, Dior Fine Jewelry's Gourmande pastel yellow gold and green beryl earrings and an Oui pink gold, diamonds and morganite ring.
Earlier that day, Lawrence appeared on The Late Show with David Letterman and revealed she was hospitalised ahead of the screening of the film because her stomach hurt.
"I just had this really bad pain for, like, three weeks," she said, "And you know you can only s**t your pants so many times a day before you go to the emergency room, before you're like "I need to go to the hospital.""
"I thought I had an ulcer, but it turns out it was a "fulcer", she went on, "I went to the emergency room. I just did this thing yesterday called an endoscopo-something, where they put you to sleep. And the woman - it's pretty clear when you first meet me, I'm a freakin' head case and I'm crazy - so I'm in there like,"Ugh, what are these?! What do they mean?! What does that say?!'"
"The last thing I said was, "I'm paralysed!" she joked.
"I dreamed there was a nuclear bomb that went off," she added, "And the first lucid conversation I remember having was about the Kardashians."
© Copyright IBTimes 2023. All rights reserved.